Point Park tops Cincinnati Christian, 2-1, moves on to KIAC Tournament Finals
Nov. 6, 2012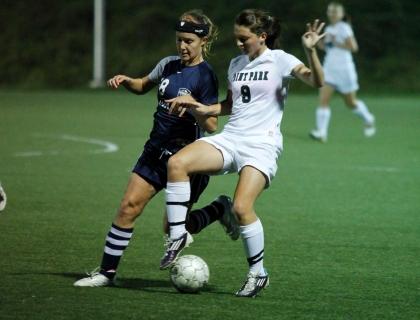 Alyson Joyce got the game-winning goal in Point Park's 2-1 playoff win over CCU. Photo by Evan Skowvron.
PITTSBURGH -- Alyson Joyce hammered home a loose ball from inside the 5-yard line in the 61st minute to provide the game-winning goal of Point Park University's 2-1 victory over Cincinnati Christian in the Kentucky Intercollegiate Athletic Conference Tournament Semifinals at Cupples Stadium on Tuesday afternoon.
Point Park (10-7-1, 4-1-1 KIAC), the No. 2 seed in the six-team, single-elimination tournament, moves on to the KIAC Tournament Finals at No. 1 seed Carlow on Nov. 10. Kickoff will be 7 p.m. at Founders Field with the winner advancing to the NAIA national tournament. Carlow won the regular-season meeting, 1-0, at home Oct. 24.
Cincinnati Christian (10-8-1, 3-2-1 KIAC), the No. 3 seed, won the rigtht to play Point Park by beat No. 6 seed Brescia (Ky.), 8-0, in the first round Saturday. Carlow (13-1-1, 6-0-0 KIAC) advanced to the finals by beating No. 4 seed Asbury (Ky.), 1-0, in the other semifinal game Tuesday.
Joyce, a freshman foward from Medina, Ohio, knocked in the game-winner after it wwas crossed to the doorstep of the goal by Karly Shorts. Joyce's tally came after the teams traded penalty kicks and came just five minutes after CCU tied it up at 1-1.
Point Park's Kristina Stammer scored her 12th goal of the year on a penalty kick in the 20th minute. She was the beneficiary of forward Leeza Tokarski being taken down inside the box. Then minutes into the second half, Point Park returned the favor by tacking a player in the penalty area. Lanie Reece put in the PK in the 56th minute to tie it up at 1-1.
Point Park held a 16-10 advantage in shots. The Pioneers' goalkeeper Mackenzie Pinto made six saves in 90 minutes.
It was the first playoff victory in the eight-year history of Point Park women's soccer. The Pioneers made the playoffs for the first time last yea.
Follow the Pioneers on Twitter @PointParkSports and Facebook.com/PointParkAthletics