Point Park's win streak ends with 2-1 home loss to non-conference La Roche
Sept. 16, 2012 at 10:15 p.m. ET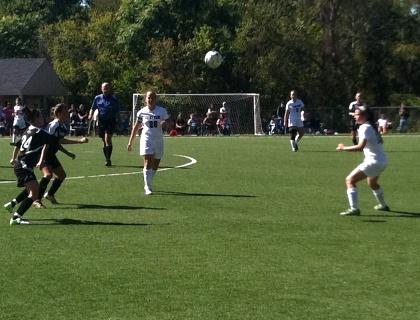 Point Park and La Roche battle to win at ball Sunday at Century United South Park Complex.
SOUTH PARK, Pa. -- Point Park University's season-opening, four-game win streak came to an end Sunday when the Pioneers lost at home to La Roche College, 2-1, in a non-conference women's soccer game at Century United South Park Complex.
Point Park (4-1, 1-0 KIAC) trailed for the first time all year when La Roche's Lauren Nogal took advantage of a turnover deep in the Pioneers' own end for a 1-0 lead in the 39th minute.
Point Park found itself down, 1-0, at the half despite holding a 10-4 advantage in shots the first 45 minutes. In the end, most of the opportunities were on the Pioneers' end as they led in shots, 24-10 with plenty of scoring opportunities on the day.
After coming up empty on some previous chances, Point Park got the tying goal it was looking for when sophomore forward Megan Kuntz, from Newville, Pa., hammered home a deflection from right in front of the goal in the 73rd minute. Kristina Stammer, from Daytona Beach, Fla., picked up the assist by putting the ball on goal.
But the game was tied for just a short time as La Roche got the eventual game-winner just four minutes later. The Redhawks (2-3) worked on the ball down the center of the field on a lob pass by Sarah Stierer. Bethanie Moreschi ran under the ball and knocked it in for the difference maker.
Point Park still had some chances when it trailed 2-1 the last 13 minutes. The Pioneers hit a post in the 87th minute in what was an afternoon of near misses offensively. La Roche was able to stay in control despite Point Park getting a couple of nice breakaways and most notably a penalty kick, the latter of which came in the 59th minute with the score 1-0.
Point Park was whitsled for six offsides violations, four of which came in the first half. Each team had one corner kick opportunity.
La Roche split the goalkeeping duties between Destiney Davis and Maria Di Perna, who combined to face 24 shots and make 11 saves. Point Park goalkeeper Mackenzie Pinto made six saves in 90 minutes.
Point Park next's game is Wed., Sept. 19 at Davis & Elkins (4 p.m.). That game starts a string of six consecutive road games. That stretch includes a key, KIAC road trip Sept. 29-30 to Brescia (Ky.) and Midway (Ky.).
Follow us on Twitter @PointParkSports and Facebook.com/PointParkAthletics