Pioneers lose at unbeaten Davis & Elkins, 2-1, in non-conference play
Sept. 19, 2012 at 9:20 p.m. ET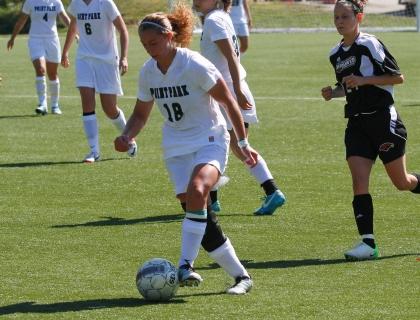 Point Park's Megan Kuntz (18) scored her 6th goal of the year Wednesday. Photo by Evan Skowvron.
ELKINS, W.Va. -- After finally drawing even late in its non-conference game at Davis & Elkins on Wednesday, the Point Park University women's soccer team gave the lead right back as it lost on the road to the unbeaten Senators, 2-1.
Point Park (4-2, 1-0 KIAC) tied Davis & Elkins at 1-1 on Megan Kuntz's goal in the 85th minute. But the Senators (7-0, 2-0 WVIAC) got the eventual game winner just 65 seconds later for the win.
The game was scoreless at the half, and Davis & Elkins' Taylor Morton opened the scoring with her seventh goal of the year in the 57th minute.
Kuntz, a sophomore forward from Newville, Pa., pulled the Pioneers even with just 5:25 left in the game. It was the sixth goal of the year for Kuntz, who has six goals, four assists and 16 points in just six games. Junior midfielder Kristina Stammer, from Daytona Beach, Fla., picked up an assist on the play, which was finished by Kuntz's bicycle kick.
But the lead was short-lived after the beautiful goal as Sarah Fyock scored an unassisted goal with just 4:30 left to keep the Senators unbeaten at 7-0.
Davis & Elkins held a big advantage in shots, 23-13. The shots were 13-3 in the scoreless first half but 10-10 the last 45 minutes.
Point Park freshman goalkeeper Erica Roney, from Springdale, Pa., got her first career start and made seven saves in 90 minutes.
Point Park will now have 10 days off before its next game. Despite its current, two-game losing streak, the Pioneers are still unbeaten at 1-0 in the Kentucky Intercollegiate Athletic Conference. Point Park will try to extend its KIAC record in its next two games, a key road trip to Brescia (Ky.) and Asbury (Ky.) Sept. 29-30.
Follow us on Twitter @PointParkSports and Facebook.com/PointParkAthletics