Point Park wins at Midway (Ky.), 7-0, sets program mark for most wins
Sept. 30, 2012 at 9:50 p.m. ET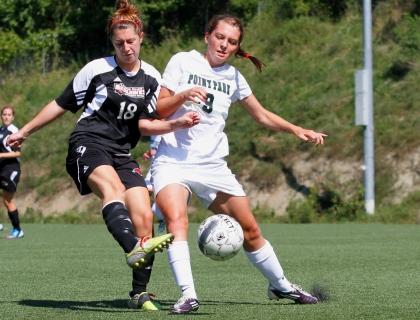 Alyson Joyce (9) had a goal and an assist in Sunday's 7-0 win at Midway (Ky.). Photo by Evan Skowvron.
MIDWAY, Ky. -- Point Park University turned on the rout in the second half of its 7-0 victory at Midway (Ky.) College on Sunday in a Kentucky Intercollegiate Athletic Conference women's soccer game.
The Pioneers (6-2-0, 3-0-0 KIAC) scored three goals in the first half and then piled on four more after halftime to run away from Midway (3-6-1, 1-2-0 KIAC).
At 3-0 in the KIAC, Point Park is in first place by two games over the nearest competitor. And with their sixth win of the year, the Pioneers set a program record for wins in a season.
Point Park women's soccer is in its eighth year of existence. The previous highs for most wins came in 2007 (5-12) and 2006 (5-9).
Versus Midway, shots were in Point Park's favor by a final count of 26-8. The Pioneers opened the scoring in 17th minute when Alyson Joyce scored off an assist from Jillian Evilsizer. Kari Kowalski (29') and Erin Gilmartin (41') added goals before the first half was through for a 3-0 lead.
The Pioneers didn't wait long after halftime as Kristina Stammer scored just four minutes after the break. Megan Kuntz found the back of the net 10 minutes later for a 5-0 lead. KiLeigh Williams (67') and Leeza Tokarski (77') also scored goals.
Joyce, Kowalski, Kuntz and Tokarski each had a goal and an assist.
Three goalkeepers saw action for Point Park. Erica Roney (45 minutes), MacKenzie Pinto (30) and Anna Shaw (15) combined for five saves in the shutout.
Point Park's next game is at Salem International on Friday at 3 p.m. The non-conference contest is the fourth game of a six-game road trip.
Point Park returns home Oct. 17 vs. Pitt-Johnstown (7 pm), the first of four home games in a six-day span.
Follow us on Twitter @PointParkSports and Facebook.com/PointParkAthletics