Point Park tops Geneva, 2-1, in home opener, improves to 2-0 overall
Sept. 5, 2012 at 10:00 p.m. ET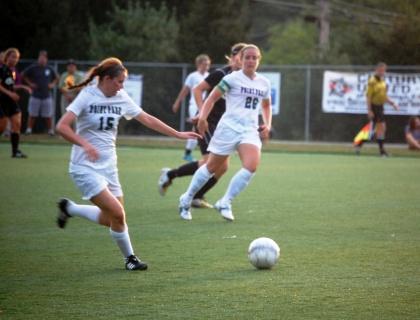 Jorden Strehle (15) takes a pass from Kristina Stammer (26) in Wednesday's game vs. Geneva.
SOUTH PARK, Pa. -- Point Park University built a 2-0 halftime lead with a couple of goals from freshmen and went on to beat Geneva College, 2-1, in a non-conference women's soccer game Wednesday night at Century United South Park Complex.
Jillian Evilsizer, a freshman midfielder from Medina, Ohio, opened the scoring with a strike in the 32nd minute. Leeza Tokarski, a freshman forward from Pittsburgh, Pa., and Schenley HS, gave Point Park a 2-0 lead with a tally in the 35th minute.
Both goals were scored in similar fashion as the ball settled for both Evilsizer and Tokarski out around the top of the box, and they each hammered it home for a goal.
Point Park (2-0) was in control at halftime as it held a 10-1 advantage in shots to that point. Geneva (1-2) got some more chances after halftime and eventually cut it to a one-goal game with Heidi Mann's strike from 18 yards out in the 83rd minute.
But Point Park finished things off the last seven minutes to seal the win. It is the first time ever in the eight-year history of Pioneers women's soccer that the team is 2-0.
Point Park held a 14-7 edge in shots in the final tally. Mackenzie Pinto played all 90 minutes in goal for the Pioneers, and made three saves.
The Pioneers contine their busy week with a home game versus non-conference Muskingum, an NCAA Division III school, on Friday. Game time at Century United South Park Complex is 7 p.m.
Follow us on Twitter @PointParkSports and Facebook.com/PointParkAthletics