Pioneers open KIAC play with 8-1 win at Berea (Ky.), improve to 4-0 overall
Sept. 9, 2012 at 11:30 p.m. ET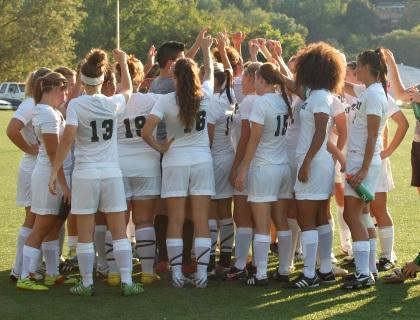 The Point Park women's soccer team is 4-0 overall, 1-0 KIAC after Sunday's 8-1 win at Berea.
BEREA, KY. -- The Point Park University women's soccer team scored seven unanswered goals to open Kentucky Intercollegiate Athletic Conference play with an 8-1 victory at Berea (Ky.) on Sunday. The Pioneers (4-0, 1-0 KIAC) stayed unbeaten and now have outscored their opponents, 18-2, in their four games thus far.
Point Park got an early goal ooff the foot of Alyson Joyce after just 7:51 had expired. But Berea (1-1, 0-1 KIAC) struck back with a tying tally less than five minutes later.
Then Point Park pulled away for good. Leeza Tokarski scored two goals before the first half was through, and the Pioneers led, 3-1, at intermission. The offense continue after the break led by Kristina Stammer, a junior midfielder from Daytona Beach, Fla., who scored three second-half goals.
Kari Kowalski and Megan Kuntz also scored in the second half. Point Park had eight goals with 19 minutes still on the clock.
Kuntz picked up three assists in addition to her goal. Kowalski, Stammer, Joyce and Angela Robinet each had one assist.
Point Park held a 37-2 advantage in shots. Only one of Berea's shots registered on goal. Pioneers goalkeepers Mackenzie Pinto (70 minutes) and Erica Roney (20 minutes) shared a relatively easy afternoon thanks to the Point Park controlling things.
Point Park's defensive unit of Maeve Gallagher, Destiny James, Angie Abel and Amanda Mikolay once again kept any kind of serious attack from the opponent as it has all season long.
After playing four games the first eight days of the season and three games in the last five days, Point Park will take a week off before hosting La Roche on Sun., Sept. 16 (2 p.m.). A Fan Van is available for that game and are free with Student ID. The Fan Van leaves the student Center Lot at 1 p.m.
Follow us on Twitter @PointParkSports and Facebook.com/PointParkAthletics