Point Park women's soccer shuts out La Roche in 2-0 home win at Highmark Stadium
Sept. 24, 2013 at 11:59 p.m. ET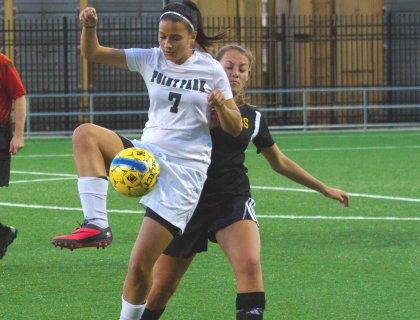 Leeza Tokarski had a goal and an assist in the 2-0 win over La Roche. Photo by Evan Schall.
PITTSBURGH -- The Point Park University women's soccer team picked up another home win Tuesday at Highmark Stadium with a 2-0 shutout of visiting La Roche College.
Paige Manning got the eventual game-winning goal in the first half, and Leeza Tokarski had a goal and an assist to lead the Pioneers (4-5, 2-0 KIAC) to their third win in four games, all three of which have come by shutout.
The Pioneers continued their strong play at home at Highmark Stadium, where they now have a 4-2 record. Point Park will put its 0-3 road record to the test in its next game, Thursday night at Westminster (7:30 p.m.).
Point Park controlled things versus La Roche (2-6) with a 30-9 advantage in shots. Emily Levier and Alyson Joyce picked up assists on Tokarski's goal, which came in the second half to seal the win.
Follow the Pioneers on Twitter @PointParkSports and Facebook.com/PointParkAthletics