Pioneers lose, 3-0, to NAIA #13 Houghton at Cupples Stadium Friday
Sept. 30, 2011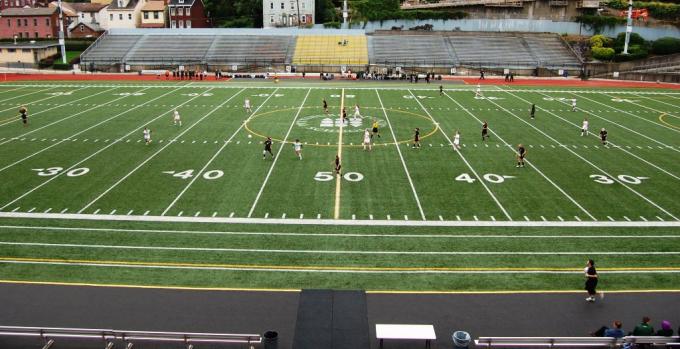 Point Park and Houghton played Friday at Cupples Stadium on the South Side. Houghton won, 3-0.
PITTSBURGH -- Houghton College, ranked No. 13 in the NAIA, beat Point Park Univeristy, 3-0, Friday afternoon in an American Mideast Conference women's soccer game at Cupples Stadium.
Point Park (4-6, 3-2 AMC) had been riding a four-game winning streak, but the Pioneers came up on the losing end to once-beaten Houghton (9-1, 4-0 AMC).
The game was played on even terms the first 23 minutes before Houghton got on the board. The Highlanders, who are known for a methodical style centered positioning, kept Point Park at bay the rest of the way. Houghton has only given up five goals in 10 games all year.
Houghton took its 1-0 lead into halftime and then made it a two-goal game in the 65th minute. Ten minutes after that, the Highlanders stretched the margin to three goals.
Jen Hudson scored first for Houghton, and Amanda Zacchigna had the second goal. Alyssa Figueroa assisted on both scores, which each developed when a pass sliced through the Point Park defense. Katharine Hornibrook scored the third goal on a dribble down the left side.
Houghton held a 25-8 advantage in shots, and 14 of its shots registered on goal. Poitn Park managed five shots on target. Poitn Park goalkeeper Anna Shaw made 11 saves on the day.
Including Friday's defeat, three of Point Park's six losses have come to teams that are nationally ranked. Cal-State San Marcos, currently ranked No. 7 in the NAIA, was ranked 15th when it beat Point Park, 4-1, Aug. 27.
Transylvania, which handed Point Park a 4-0 loss Sept. 3, is ranked No. 14 in NCAA Division III.
Houghton was 13th in Tuesday's NAIA Women's Soccer Top 25 Coaches' Poll. The NAIA released its women's soccer Modified Ratings Percentage Index on Wednesday, and Houghton was ranked sixth in that rating. The MRPI takes into account results, record and strength of schedule.
Point Park is off until visiting Daemen Oct. 8 (4 p.m.). The Pioneers will play another game at Cupples Stadium, the regular season final Oct 28 vs. Roberts Wesleyan (10 a.m.).