Roberts Wesleyan pulls away from Point Park in 6-1 victory in AMC play
Oct. 15, 2011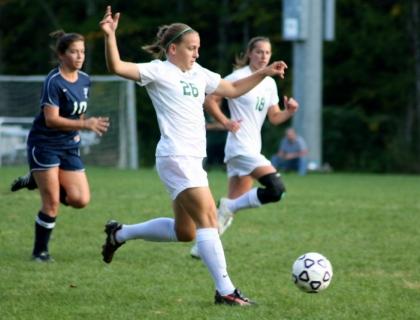 Kristina Stammer scored for Point Park in its 6-1 loss at Roberts. Photo by Lyddia Ankrom.
ROCHESTER, N.Y. -- Roberts Wesleyan scored the final five goals of the
game -- including four in the second half -- to pull away from visiting Point Park and notch 6-1 victory in American Mideast Conference play Saturday.
Roberts Wesleyan (8-7, 5-4 AMC) broke a 1-1 tie with Vanessa Sell's goal 10 minute before halftime and scored four more before the game was through. 
The loss puts Point Park at 4-10 overall and 3-5 in the AMC. Despite its fifth loss in a row and fourth-consecutive defeat in AMC play, the Pioneers still hold a three-point lead over Carlow for fourth-and-final playoff spot among postseason-eligible teams.
Point Park has four AMC games remaining, beginning with a visit to Walsh on Tuesday. The Pioneers also will play Daemen, Carlow and Roberts Wesleyan.
Saturday's game remained scoreless for the first 20 minutes until the Raiders got on the board with Jen Burch's goal. Six minutes later, Kristina Stammer scored an unassisted goal for Point Park. Stammer is a sophomore midfielder from Daytona Beach, Fla.
Roberts Wesleyan held a 21-3 advantage in shots, including 12-1 in its high-scoring second half. Point Park was still within a goal, trailing 2-1 with 31 minutes remaining, but within a span of eight minutes, the Raiders stretched the lead to 5-1.
Erika Luedke scored in the 60th minute, and Kara Farnsworth scored in the 63rd and 68th minutes. Anna Dominick scored the last goal with 14:24 remaining.