Walsh rallies past Point Park with Adams' three goals in the second half
Oct. 18, 2011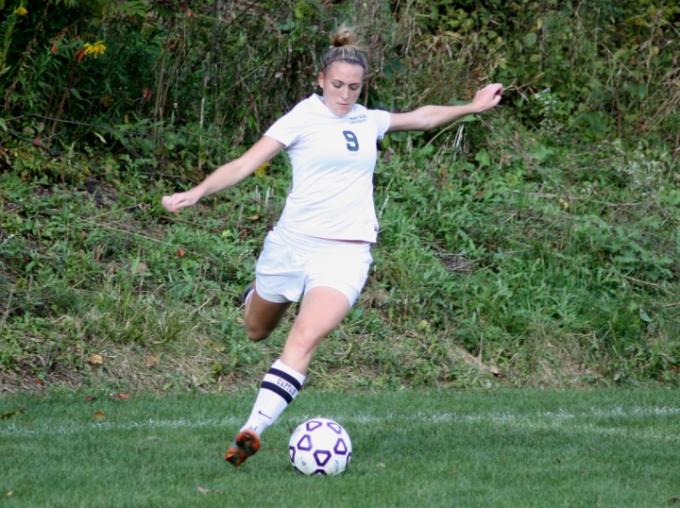 Lauren Evans scored a goal at Walsh Tuesday to give Point Park a 2-1 lead at halftime. Photo by Lyddia Ankrom.
NORTH CANTON, Ohio -- Walsh University's Carley Adams scored three goals in the second half to turn the Cavaliers' 2-1 halftime deficit into a 4-2 victory over visiting Point Park University in an American Mideast Conference women's soccer game Tuesday evening.
Adams scored her seventh, eighth and ninth goals of the year after Point Park (4-11, 3-6 AMC) had taken a 2-1 lead with goals by Lauren Evans and Megan Kuntz late in the first half.
Walsh (11-3, 7-2 AMC) opened the scoring with Molly Martin's goal in the 29th minute. Following a delay for lightning, Evans knotted the score at 1-1 in the 40th minute with her third goal of the year. Evans, a senior from Munhall, Pa., was assisted by Alyssa Larkin, from Bethel Park, Pa., and Louise Delaney from England.
Just 95 seconds later, Kuntz scored an unassisted goal for a 2-1 Point Park lead. Kuntz, a freshman from Newville, Pa., now has four goals on the year.
Point Park kept its one-goal lead for the first 11 minutes of the second half, but Adams created a goal off a self pass in the 57th minute to tie things up at 2-2.
The score stayed that way until the 76th minute when Lauren Jokovich's pass up the middle found Adams for the eventual game-winner. Adams added an insurance goal in the 87th minute after taking a pass from the right from Jokovich.
Point Park has three games remaining, all of which will be in AMC play. The Pioneers host Daemen on Saturday at 2 p.m. for their Senior Day at Founders Field. Point Park visits Carlow Oct. 25 before playing host to Roberts Wesleyan Oct. 28 at Cupples Stadium (10 a.m.).
Point Park holds a three-point lead over Carlow for the fourth-and-final playoff spot in the AMC.