Point Park women can't make up 2-0 deficit in Senior Day loss to Daemen
Oct. 22, 2011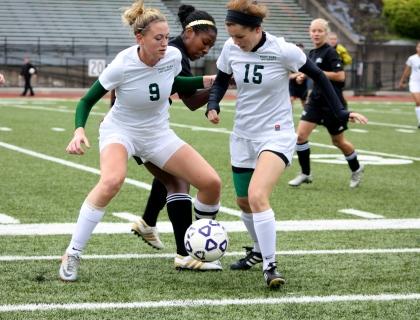 Lauren Evans (9) and Jorden Strehle (15) in a game Sept. 30. Photo by Lyddia Ankrom.
CHESWICK, Pa. -- The Point Park University women's soccer team could not overcome a 2-0 deficit to visiting Daemen College on Saturday and ended up losing its Senior Day game, 2-1, at Founders Field.
The Pioneers (4-12, 3-7 AMC) faced an early deficit as Daemen (13-3, 9-1 AMC) got on the board in the seventh minute. It was the first of two goals by Kelsey O'Leary, a tall forward who got both of her tallies via headers.
O'Leary got her first goal after taking a cross from the right side from Jenelle Masi. In similar fashion but from the other side of the field, O'Leary headed Samantha Engel's cross into the net in the 27th minute. Both times, O'Leary was streaking down the center of the Point Park defense.
The Pioneers made things interesting with Megan Kuntz's fifth goal of the year in the 34th minute, but that was the end of the scoring for both teams. Kuntz is a freshman forward from Newville, Pa. She was right in front of the goal when fellow freshman Amanda Mikolay, from North Versailles, Pa., found her on a cross from the right.
Liz Velez made the start in goal for Point Park on her Senior Day. The senior from McKean, Pa., made 13 saves in 90 minutes. She faced 21 shots, 15 of which registered on goal.
The other senior for Point Park is Lauren Evans, a native of Munhall, Pa. Evans, a forward, recorded two shots with two coming on goal.
At 3-7 in the AMC, Point Park still holds a three-point lead over Carlow for the final league playoff spot. The Pioneers and Celtics meet Tuesday at Founders Field with a kickoff at 7 p.m. Point Park needs one win in its final two AMC games to make the playoffs. The Pioneers host Roberts Wesleyan Oct. 28 for their final conference game.