Point Park forward Tokarski named KIAC Soccer Offensive Player of the Week
Oct. 22, 2013 at 3:00 p.m. ET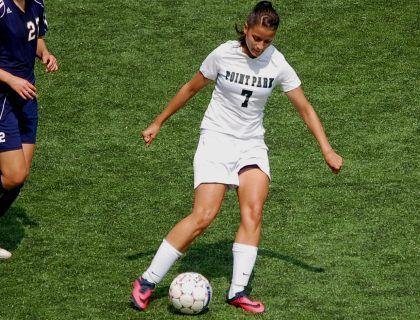 Photo by Douglas Duerring.
PITTSBURGH -- Point Park University sophomore forward Leeza Tokarski was named the KIAC Women's Soccer Offensive Player of the Week Oct. 14-20 for her play last week in a big win over Brescia (Ky.).
Tokarski, from Pittsburgh and Schenley High School, had two goals, including the game-winning goal of last Saturday's 5-0, KIAC win over Brescia (Ky.). Tokarski scored the first goal of the game to send the Pioneers (6-9, 4-0 KIAC) on their way to victory.
Tokarski also added on to Point Park's 2-0, halftime lead with an early tally in the second half to put the game away. The victory kept the Pioneers in first place in the KIAC and allowed them to control their own fate in the KIAC race.
Tokarski leads Point Park with six goals and 14 points, and the Pioneers are back in action tonight (Oct. 22) in a big home game versus KIAC foe Carlow. Kickoff is 7 p.m. at Highmark Stadium.
Follow the Pioneers on Twitter @PointParkSports and Facebook.com/PointParkAthletics