Point Park falls into tie with Carlow for final playoff spot after 1-0 loss to Celtics
Oct. 25, 2011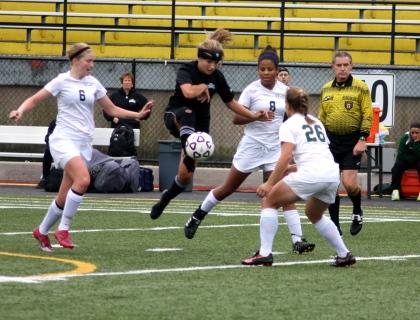 Pictured: The Point Park midfield in a game vs. Houghton Sept. 30. Photo by Lyddia Ankrom.
CHESWICK, Pa. -- Point Park University lost at Carlow University, 1-0, Tuesday night in an American Mideast Conference women's soccer game at Founders Field, and the two teams are now tied for the fourth-and-final playoff spot in the American Mideast Conference.
Carlow (7-9, 3-8 AMC) got a goal in the first half and made it stand up in avenging a 1-0 loss at Point Park (4-13, 3-8 AMC) earlier this year.
The win for the Celtics splits the season series with Point Park and ties the teams in the AMC standings in this the final week of the regular season.
If Point Park can beat Roberts Wesleyan (8-8, 5-5 AMC) in its AMC finale on Friday, it will take the final playoff spot over Carlow. Point Park lost at Roberts, 6-1, Oct. 15.
Carlow has one game remaining against an AMC team with that being a matchup with Walsh. But results verus Walsh, an NCAA Division II provisional member that cannot compete for AMC playoffs, do not count toward playoff qualification or seeding. So, essentially Carlow is finished with games that can help it make the conference tournament
Should Point Park lose to Roberts Wesleyan on Friday at Cupples Stadium (9:45 a.m.), then the AMC tiebreaking criteria would kick in. The first tiebreaker is head to head competition and the next is results versus the top teams in the conference starting with the first place team and working down through the standings until there is a difference. Neither of those solve anything between Point Park and Carlow since they split the head-to-head games and both teams lost to everybody but each and winless Fisher.
The next criteria is the Longo Rating/Modified RPI within the conference. The rating is determined by the AMC women's soccer chair, and will be calculated once all results are in for the season.
For full details on the Point Park-Carlow game, download the box score at the top of this page.