Point Park women lose at home to Roberts, Stammer scores twice for Pioneers
Oct. 28, 2011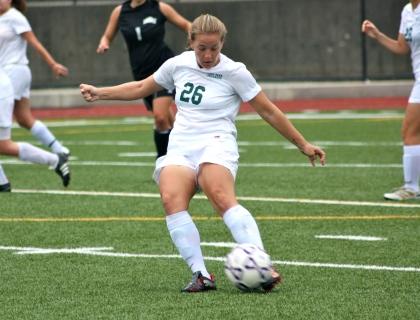 Kristina Stammer (26) scored two goals for Point Park Friday. Photo by Lyddia Ankrom.
PITTSBURGH -- Point Park Univesity got two goals from Kristina Stammer and had a 1-0 lead early, but ended up losing to visiting Roberts Wesleyan, 3-2, in an American Mideast Conference women's soccer game at Cupples Stadium Friday morning.
Point Park (4-14, 3-9 AMC) had taken a 1-0 lead on Stammer's first tally, which came 12:29 into the game. But Roberts Wesleyan (9-8, 6-5 AMC) scored the next three goals to take control.
Despite the loss, Point Park qualifies for the AMC playoffs, which start next Saturday, Nov. 5. The Pioneers have received word from the conference soccer chairs that they have been awarded the fourth-and-final playoff spot in the league.
Point Park has the edge over Carlow for the final seed based on its better standing in the Longo Rating, which takes into account results, record and score differential.
The Pioneers will visit top seed Houghton, ranked No. 17 in the NAIA, in the first round of the AMC playoffs Nov. 5. The game time is TBA. Point Park lost to Houghton, 3-0 and 5-0 this year. The other AMC first round game will pit No. 2 seed Daemen hosting No. 3 seed Roberts Wesleyan. The championship match is Nov. 12 at the highest remaining seed.
After Point Park and Roberts Wesleyan played to a 1-1 tie at halftime of Friday's game, Roberts took the lead for good on Jackie Corbett's strike in the 55th minute. Later, Alison Kendall stretched the Raiders' lead to 3-1 with 17:07 remaining.
Stammer, a sophomore midfielder from Daytona Beach, Fla., scored her team-leading seventh goal of the year just three minutes later to make things interesting at 3-2. But the Pioneers could not get the equalizer during the last 14 minutes.
The teams were even in shots with 12 apiece. Point Park held a 9-3 advantage in corner kicks and cashed in one of them for a goal. Megan Kuntz took the corner attempt that set up Stammer's second goal.
Stammer's first goal was set up nicely by Amanda Mikolay and Kuntz, who worked the ball down the right side before putting it right in from the goal for Stammer to knock in.
Point Park goalkeeper Anna Shaw played all 90 minutes in net and made six saves.