Point Park women's soccer players earn All-AMC honors for 2011 season
Nov. 20, 2011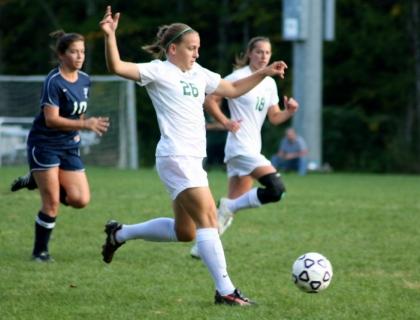 PITTSBURGH -- A total of six Point Park University women's soccer players earned All-American Mideast Conference honors as announced by the league office on Friday (Nov. 18). All-AMC second team selection Kristina Stammer led the honorees from Point Park.
Stammer, a sophomore midfielder/forward from Daytona Beach, Fla., had a team-high seven goals and 18 points. The transfer who spent one year at Sierra (Calif.) College was second on the team with four assists.
Five players received All-AMC Honorable Mention honors -- Lauren Evans (F, Sr., Munhall, Pa.), Destiny James (D, So., Cumberland, Md.), Keri Kowalski (M, Fr., Harrison, Ohio), Louise Delaney (M, Fr., Headley Down, England) and Megan Kuntz (F, Fr., Newville, Pa.).
Point Park loses just two seniors and one starter from the 2011 team that made the AMC playoffs. Of the 10 starters who will return next year, nine of them were freshmen or sophomores this past year for second-year head coach Mark Platts.
Evans is All-AMC Honorable mention for the second year in a row, and all the other honorees received all-conference recognition for the first time in their careers.
Evans, a four-year starter, had three goals and three assists for a total of nine points this year. She amassed nine goals, 11 assists and 29 points in her career. Her 11 assists are the most in the history of the program, which was started in 2005.
James started 18 of 19 games at defender, and she was a key defensive player for the Pioneers. She had one goal and two assists and was able to play both outside and central defender when the defensive lineup exeprienced injuries and players missing games for various reasons.
Kowalski started all 19 games at midfield in her freshman season. The Harrison, Ohio, native had one goal on the year from her defensive midfield position. Also playing solid in the midfield as a freshman was Louise Delaney, a native of Headley Down, England, who had one goal and one assist on the year. Delaney played in 16 games and made 14 starts.
Kuntz started 18 games at forward and was second on the team with five goals and 14 points. The speedy forward who starred at Big Spring High School had four assists as well.