Point Park women end season with playoff loss at NAIA #16 Houghton
Nov. 5, 2011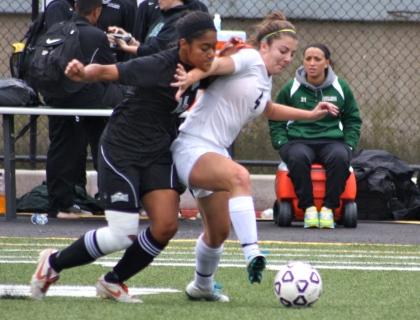 Point Park defender Destiny James works against Houghton in a game Oct. 28. Photo by Lyddia Ankrom.
HOUGHTON, N.Y. -- Point Park University's women's soccer season came to an end Saturday with a 3-0 loss to NAIA No. 16 Houghton in the semifinals of the American Mideast Conference playoffs.
Houghton (16-3) is the top seed in the four-team, single-elimination playoff tournament. Point Park (4-15) earned the first postseason berth since the program gained varsity status in 2005.
Houghton, which beat Point Park three times this year and did not surrender a goal in any of the contests, took control with Atalie Fite's goal in the 12th minute. The Highlanders were ahead, 2-0, at the break after Alyssa Figeuroa's first of two goals. She netted her second tally in the 77th minute to put things out of reach.
Anna Shaw made 18 saves for Point Park and faced a total of 30 shots. Point Park tallied seven shots with four coming on goal. Houghton keeper Alexa Thayer earned the shutout.
Point Park loses just two seniors from this year's team, which the second year under head coach Mark Platts.
The Pioneers ended up with four players who had double-digit points. Leading the way was Kristina Stammer with 18 (7 G, 4 A), Megan Kuntz with 14 (5 G, 4 A), Amanda Mikolay with 11 (3 G, 5 A) and Kileigh Williams with 10 (5 G, 0 A).