Point Park women's soccer comes up short in KIAC Tournament finals again
Nov. 9, 2013 at 9:45 p.m. ET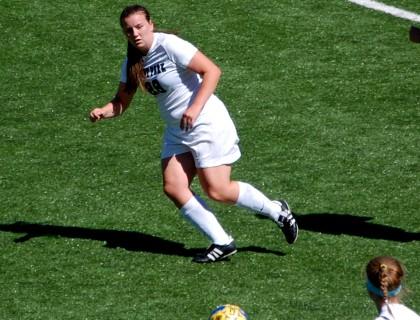 Louise Delaney scored Point Park's only goal in the 2-1 loss at Asbury in the KIAC Finals.
WILMORE, Ky. -- The Point Park University women's soccer suffered another tough defeat in the KIAC Tournament Finals losing 2-1 at Asbury (Ky.) University on Saturday to fall one game short of the NAIA national tournament for the second year in a row.
The No. 3 seed Pioneers (7-12-2, 4-1-1 KIAC) had some opportunities in the second half both with the score 0-0 and 1-1, but they could never muster a lead or a go-ahead goal.
Instead, No. 1 seed Asbury (Ky.) (11-8, 6-0 KIAC) got the victory in the conference championship game to earn the KIAC's automatic bid to the NAIA national tournament beginning Nov. 23 at campus sites.
It is the second year in a row that Point Park reached the KIAC Tournament finals only to come up with a one-goal loss. The Pioneers lost at Carlow, 1-0 (OT), in the 2012 finals.
Saturday's title game at Asbury was scoreless at the half. And although Point Park did not register a shot in the opening 45 minutes -- Asbury led 5-0 in that category -- the Pioneers out-shot the Eagles, 10-6, after halftime.
But it was Asbury's Shanda Painter, a freshman, who scored her 15th and 16th goals of the year in the second half to lift Asbury. Painter's first goal gave the Eagles a 1-0 lead at the 61:41 mark.
Point Park drew even at 1-1 when Louise Delaney gathered a clearing attempt and put it in the back of the net at 66:40. Still with 23:20 left, the game was hanging in the balance and capable of going either way.
Asbury got the game-winner from Painter with 12 minutes left. She made a spin move near the top of the 18 and got free for the goal.
Asbury had the lead in shots, 11-10, and in corner kicks , 5-0. The Eagles made 10 fouls compared to four for Point Park.
Follow the Pioneers on Twitter @PointParkSports and Facebook.com/PointParkAthletics