Point Park takes 3-0 lead over Daemen, but loses 4-3 in double OT
Oct. 8, 2011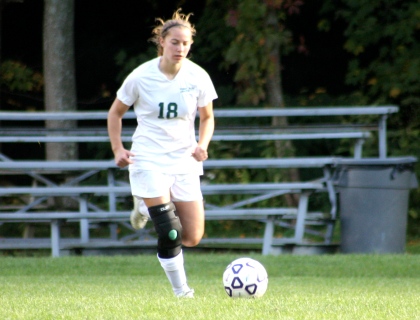 Megan Kuntz scored a goal at Daemen Saturday. Photo by Lyddia Ankrom.
AMHERST, N.Y. -- The Point Park women's soccer team had its 3-0 lead go to waste Saturday in a 4-3, double-overtime loss at American Mideast Conference foe Daemen.
Daemen (9-3, 5-1 AMC) completed its regulation-time comeback with Alicia Vasiloff's goal in the 88th minute. The Wildcats went on to get the game-winner on Samantha Engel's second goal of the game, which came in double overtime.
Point Park (4-7, 3-3 AMC) took a 1-0 lead into halftime and quickly bumped its nice lead up to 3-0 in the first five minutes of the second half.
Already leading, 1-0, thanks to Megan Kuntz's goal with 7:49 left in the first half, Point Park went ahead, 2-0, when Lauren Evans lofted a goal over the keeper after 4:15 had come off the second-half clock. Then, Louise Delaney knocked in a header just 44 seconds later for a 3-0 Point Park lead.
Three minutes later, Daemen took advantage of a penalty kick to cut it to 3-1. Later, Engel scored to make it 3-2, and the Wildcats still had 14:45 in which to get the tying goal. They ended up getting it with just 2:43 left on the clock.
Daemen held a 27-16 advantage in shots and had 10 corner kicks compared to five for Point Park. Goalkeeper Anna Shaw made nine saves and went the distance for Point Park.
The Pioneers are in action Tuesday when they host Seton Hill for a non-conference game at Founders Field. Game time is 7 p.m. That matchup was originally scheduled for Sept. 7, but it was postponed due to rain.