Point Park stays unbeaten in KIAC with Senior Day win over Brescia (Ky.), 5-0
Oct. 19, 2013 at 7:00 p.m. ET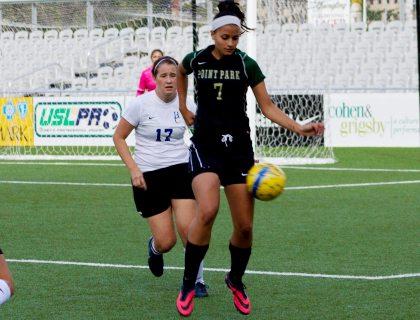 Leeza Tokarski had two goals in the 5-0 victory over Brescia (Ky.) at Highmark Stadium. Photo by Evan Schall.
PITTSBURGH -- The Point Park University women's soccer team set a season-high for goals and stayed unbeaten in the KIAC with Saturday's Senior Day win over visiting Brescia (Ky.) University, 5-0, at Highmark Stadium on Saturday.
The Pioneers improved to 6-9 overall and a perfect 4-0 KIAC. With two games left in conference play, the Pioneers are a half game ahead of Asbury (Ky.) (3-0 KIAC) for first place in the KIAC standings. Up next for Point Park is another big home game Tuesday night versus third-place Carlow (3-1 KIAC). Kickoff is 7 p.m. at Highmark Stadium.
Point Park's seven seniors were honored before the game, and they all got in the game to play a part in the widest margin of victory for the Pioneers this year.
Highlighting the senior contributions were Emily Levier with a goal and an assist, KiLeigh Williams with a goal to make it 5-0, and Mackzenie Pinto getting the shutout with 90 minutes as goalkeeper.
Point Park settled in with an early lead as Levier fed a nice pass to sophomore Leeza Tokarski for the 1-0 lead in the seventh minute. Levier scored her goal late in the first half when Kari Kowalski set her up in the 38th minute.
With the 2-0 lead at the half, Point Park scored two goals a little over two minutes a part as Tokarski put in her second goal of the game in the 53rd minute, and Beth Millican scored in the 56th minute.
Williams tacked on her goal in the 77th minute for the commanding, 5-0 lead. Point Park's previous high for goals in a game came in their 3-0 home win over Berea (Ky.) Sept. 13, also a KIAC victory.
Point Park now looks ahead to the showdown with Carlow on Tuesday night in what is a rematch of the 2012 KIAC Tournament Finals won by Carlow, 1-0. Admission is Free. The game is also Faculty & Staff Night at Highmark Stadium.
FanS can watch the replay of Saturday's win and the Senior Day pre-game ceremony on-demand on the Point Park Sports Network. PPSN will broadcast live Tuesday's game versus Carlow. WATCH PPSN.