Point Park falls at Asbury (Ky.), 1-0, on penalty kick in final KIAC game
Oct. 26, 2013 at 11:59 p.m. ET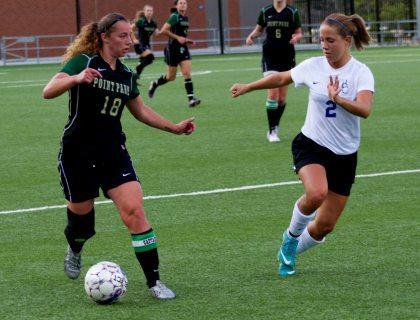 WILMORE, Ky. -- Point Park University women's soccer was on the wrong end of a tight game at Asbury (Ky.) University with a 1-0 loss in its final KIAC game of the year on Saturday.
Point Park (6-10-1, 4-1-1 KIAC) was in control of its own destiny in the KIAC and could have won the KIAC regular-season title and the No. 1 seed in the upcoming KIAC Tournament with a win at Asbury (8-8, 5-0-0 KIAC).
But Asbury got the only goal of the game on a penalty kick by Katie Hale in the 59th minute to win at home at take control of the KIAC race. The Wildcats can't be caught in the standings with one game left to play and are the KIAC regular-season champs and tournament No. 1 seed.
It was handball in the penalty area that led to the penalty kick for Hale. It was a dissappoiting turnout for Point Park, which held a 13-6 advantage in shots, including 8-2 the first half.
Point Park will be left to find out its KIAC Tournament seed with the official release of the bracket by the conference in the coming week. The Pioneers are tied for second place with Carlow (9-5-1, 4-1-1) after the Celtics won 3-0 at Cincinnati Christian on Saturday night.
A tiebreaker will decide whether Point Park or Carlow will get the tournament No. 2 seed and the first-round bye that goes with it. The team that loses the tiebreaker will be the No. 3 seed. The KIAC Tournament is a six-team field Nov. 2-9 with the top two teams getting a bye in the first round Nov. 2. The No. 1 and 2 seeds host first-round winners Nov. 5, and the highest-remaining seeds hosts the finals Nov. 9.
Point Park has one more regular season game Sunday, Oct. 27 at Georgetown (Ky.). The game will be broadcast live on Georgetown's broadcast site on iHigh.com. WATCH LIVE