Point Park ends regular season with 1-0 loss at non-conference Georgetown (Ky.)
Oct. 27, 2013 at 11:00 p.m. ET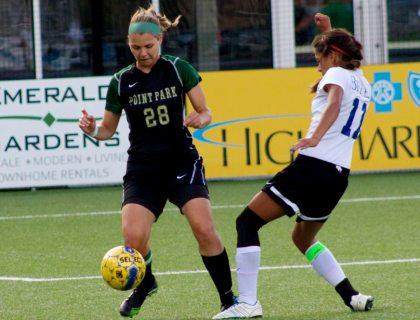 GEORGETOWN, Ky. -- The Point Park University women's soccer team ended its regular season on Sunday with a 1-0 loss at non-conference Georgetown (Ky.) College.
The Pioneers finish the regular season at 6-11-1 overall and will take their 4-1-1 KIAC record into the KIAC Tournament Nov. 2-9. The KIAC Tournament bracket will be released in the coming week after the final KIAC game is played Tuesday. The Pioneers are tied for second in the KIAC standings with Carlow (9-5-1, 4-1-1 KIAC).
Georgetown (7-6-1, 3-5 MSC) was ahead, 1-0, at the half when Kelsey Aerni scored in the 42nd minute. Georgetown held an 11-3 advantage in shots and allowed only one shot on goal for Point Park. Pioneers goalkeeper Mackenzie Pinto made five saves in 90 minutes.
With the loss, Point Park is now 1-7 in road games. It was the second time in as many days that the Pioneers lost 1-0 on the road with a 1-0 loss at Asbury (Ky.) in the KIAC regular-season finale on Saturday.