Point Park routs Brescia (Ky.) in KIAC Quarterfinals, advances to face Carlow
Nov. 2, 2013 at 10:45 p.m. ET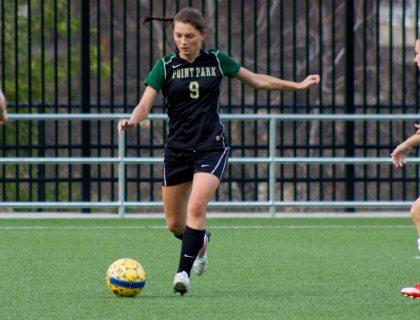 Alyson Joyce had two goals and an assists in the KIAC Tournament win over Brescia. Photo by Evan Schall.
PITTSBURGH -- The Point Park University women's soccer team routed Brescia (Ky.) University 5-0 in the KIAC Tournament quarterfinals Saturday night at Highmark Stadium.
No. 3 seed Point Park (7-11-1, 4-1-1 KIAC) beat No. 6 seed Brescia (Ky.) (2-15, 1-5 KIAC) to move on to the KIAC Tournament semifinals on Tuesday, Nov. 5 at No. 2 seed Carlow University. Kickoff is 7 p.m. at Highmark Stadium.
The Pioneers were in control throughout and had a 3-0 lead at halftime. Point Park picked up its fifth shutout of the year, and five of its seven wins on the year have come by shutout. Point Park also beat Brescia by the same score of 5-0 in the regular-season meeting.
Sophomore Alyson Joyce, from Medina, Ohio, had two goals and an assist to lead the Point Park scoring. Junior Kari Kowalski got the scoring started in the 10th minute when she scored on a header on Joyce's corner kick.
Joyce scored her first goal in the 26th minute, and senior KiLeigh Williams gave the Pioneers a 3-0 lead that half with a goal in the 38th minute.
Point Park stretched the lead out to 5-0 when Joyce and fellow sophomore Leeza Tokarski each found the back of the net in the 53rd and 55th minutes. Point Park ended up with a 20-1 advantage in shots.
In the other KIAC Tournament quarterfinal game on Saturday, No. 5 seed Cincinnati Christian (2-4 KIAC) won at No. 4 seed Berea (Ky.) (3-3 KIAC) by a score of 5-2. No. 5 Cincinnati Christian will play at No. 1 seed Asbury (Ky.) in the other semifinal game Nov. 5.
The KIAC Tournament finals will be Nov. 9 with the highest-remaining seed serving as the host.