Point Park's Lewis, Manning named KIAC Women's Soccer All-Conference

Nov. 21, 2014 at 2:30 p.m. ET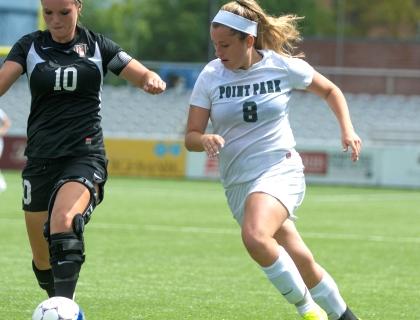 Freshman Audra Lewis was named to the all-conference team with 10 goals. Photo by Chris Squier.
PITTBURGH -- Two players from Point Park University earned a spot on the KIAC Women's Soccer All-Conference Team, as announced by the KIAC this week.
Freshman Audra Lewis (Liberty Boro, Pa./South Allegheny HS) and sophomore defender Paige Manning (Newmarket, Ontario/Newmarket HS) were named to the 14-member all-conference team. There was not a second team named.
Lewis played all 19 games and started 16 times in her freshman season for the Pioneers (10-9, 5-1 KIAC). She ranked tied for fourth in the KIAC with a team-high 10 goals and was also tied for fourth in the KIAC with 23 points.
Lewis' 10 goals tied the program's freshman record shared with Leeza Tokarski with 10 in 2012. It is just the fourth time in school history that a player registered double-digit goals. It was two off the Point Park, single-season record for goals in a season of 12 by Kristina Stammer in 2012.
Manning started 18 games at outside defender for the Pioneers. She was regularly assigned to defend the opponent's top scoring threat at forward. She was a key part of a Point Park defense that was third in the KIAC at 1.53 goals allowed per game.
The Point Park defense gave up only three goals in six regular-season, KIAC games. That was a major part of the Pioneers' 5-1 KIAC record, which earned second place in the standings and set a team record for most conference wins. Point Park posted shutouts in four of their six KIAC games.
Point Park tied a team record with 10 wins in matching the 2012 team. The Pioneers' season came to an end with a 3-2 loss at Asbury in the KIAC Tournament semifinals on Nov. 14, a game that had Point Park as the No. 2 seed and Asbury as the No. 3 seed.
For the complete list of KIAC Women's Soccer All-Conference selections, visit the link above.