Point Park tabbed 2nd in KIAC Women's Soccer Preseason Poll
Aug. 16, 2014 at 9:00 a.m. ET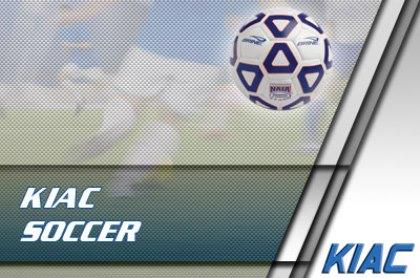 PITTSBURGH -- Point Park University was picked second in a crowded top half of the the Kentucky Intercollegiate Athletic Conference Women's Soccer Preseason Poll announced by the league office on Thursday (Aug. 14).
The top four teams in seven-team KIAC are separated by just five points in the voting, which was conducted by the conference's head coaches.
Defending KIAC regular season and tournament champion Asbury (Ky.) is picked as the 2014 preseason favorite with 27 points and three of the six first-place votes. Right behind is Point Park in second with 24 points and two first-place votes followed closely by KIAC newcomer Rio Grande (Ohio) with 23 points (1 first-place vote) and Carlow with 22 points.
Cincinnati Christian (14 points), Brescia (Ky.) (9 points) and Midway (Ky.) (7) round out the rest of the preseason poll.
Point Park has 9 of 11 starters returning from the 2013 squad that reached the KIAC Tournament finals and was in third place in the regular season with a 4-1-1 KIAC record. The Pioneers lost to Asbury, 2-1, in the KIAC championship game, and it was the second straight year they lost in the finals by one goal.
Asbury (Ky.) led the KIAC with an overall record of 11-9 and 6-0-0 KIAC last year. The Eagles later had their record changed to 4-16 overall and 2-4 KIAC after seven games were changed to forfeits after the season. Asbury's KIAC championship remains intact as the forfeits did not involve playoff games.
Point Park got the narrow nod for second place over KIAC newcomer Rio Grande despite the fact that Point Park lost its 2013 season opener at the Red Storm, 1-0, in what was a non-conference game last year. Rio Grande was 10-8 overall and reached the Mid-South Conference quarterfinals last year.
Point Park, Rio Grande and Carlow are separated in the poll by just three points. Carlow, which was 4-1-1 KIAC* in 2013, is another team that has been virtually even with Point Park the last two years. The Pioneers and Celtics tied both of their meetings last season although it was Point Park advancing on penalty kicks in the KIAC Tournament semifinal round.
Of the consensus top four teams in the conference, Point Park will play each of the other three at Highmark Stadium this year. The Pioneers host Rio Grande Sept. 20, Asbury Oct. 4 and will play a road game at Carlow there on Oct. 23, the regular season finale.
Point Park opens its 2014 season Aug. 23 at home verus Spring Arbor (Mich.) at 1 p.m. Admission is Free at Highmark Stadium.
*Note: Carlow was 4-1-1 KIAC in the regular season last year but later had its record changed to 5-0-1 KIAC after an Asbury victory over the Celtics was later changed to a forfeit.
2014 KIAC Women's Soccer Preseason Poll (Aug. 14) (First-Place Votes in Parenthesis)
| | |
| --- | --- |
| School | Points |
| Asbury (Ky.) (3) | 27 |
| Point Park (2) | 24 |
| Rio Grande (1) | 23 |
| Carlow | 22 |
| Cincinnati Christian | 14 |
| Brescia (Ky.) | 9 |
| Midway (Ky.) | 7 |