Point Park's Manning gets KIAC Women's Soccer Defensive POW honor
Oct. 14, 2014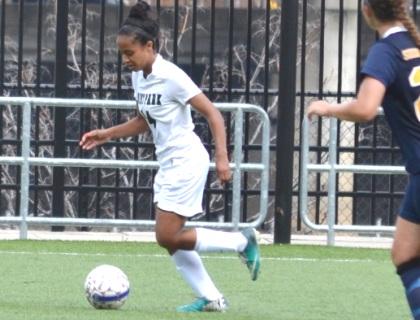 PITTSBURGH -- Point Park University sophomore Paige Manning has been named the KIAC Women's Soccer Defensive Player of the Week for her role on the Pioneers defense Oct. 6-12, the conference announced on Monday.
Manning, from New Market, Ontario, is an outside defender for the Pioneers (7-8, 3-1 KIAC) who have won five of their last six games and are in second place in the KIAC, mainly due to their defense.
A two-year starter for the Pioneers' defense, Manning has the role of marking the opposing team's top offensive threat in every game. That was the case in Point Park's 4-0 shutout at Midway (Ky.) in a KIAC game on Sunday.
Manning is a part of a Point Park defense that has given up just two goals in its last 596 minutes of game action. The Pioneers have had a lock on the KIAC Defensive Player of the Week award as Manning is the third straight defender on the team to win the award joining Angie Abel and Jasmine Meichle.
Point Park returns to action Oct. 17-18 with a two-game road trip to play St. Catharine (Ky.) and Brescia (Ky.). Follow the Pioneers on Twitter @PointParkSports #PPUSOCCER #PPUWS