Point Park opens season with 3-0 home loss to No. 14 Spring Arbor

Aug. 23, 2014 at 7:45 p.m. ET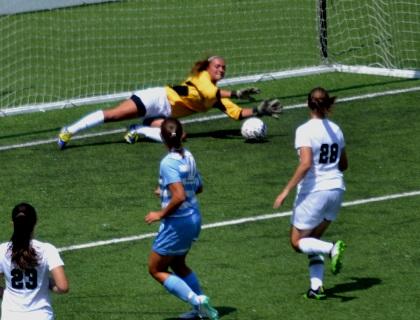 Erica Roney makes one of her four saves in the first half versus Spring Arbor Aug. 23. Photo by Zac Weiss.
PITTSBURGH -- The Point Park University women's soccer team hung with NAIA No. 14 Spring Arbor (Mich.) into the second half of Saturday's season opener at Highmark Stadium, but then the visiting Cougars pulled away with two goals off set pieces for a 3-0 victory.
Spring Arbor (1-0), which has eight starters back from the 2013 team that was 18-3-1 overall, clung to a 1-0 lead until the first of two goals off free kicks in the second half gave it some seperation. The first came in the 53rd minute when Becca Lynn fed Shannon Balcer for a running header and a 2-0 lead.
With 17 minutes left, Spring Arbor put the game away with another goal coming off a free kick. Again it was Lynn taking the attempt, and Clara Williams got free to bang home the pass. Both second half goals came after Point Park defenders were whistled for grabbing Spring Arbor attackers who had the ball.
Spring Arbor, which was picked as the preseason favorite in the Crossroads League, held a 16-3 advantage in shots. The Cougars held that advantage from the start, and even though the first-half shots were 8-1 in favor of them, they still only led 1-0 at the half.
Corrie Good opened the scoring with a strike from the top of the 18 in the 28th minute. Good made a nice individual move to get free for the attempt.
Keeping the Pioneers within a goal, Point Park's starting goalkeeper Erica Roney made four saves the first 45 minutes. Three of those were one-on-one stops with no defenders between Roney and the ball.
Mackenzie Pinto played the final 45 minutes in goal for the Pioneers and made three saves.
Point Park's three shots were by Leeza Tokarski in the first half and by Anna Wyss and Audra Lewis in the second half.
Point Park returns to the exhibition season on Tuesday for a scrimmage at Washington & Jefferson. The Pioneers had only one scrimmage leading into Saturday's regular season opener. Point Park visits Malone (Ohio) on Aug. 30 for its next official game.
Follow the Pioneers on Twitter @PointParkSports