Point Park gets first victory of 2014 season with 4-0 win at La Roche
Sept. 3, 2014 at 11:59 p.m. ET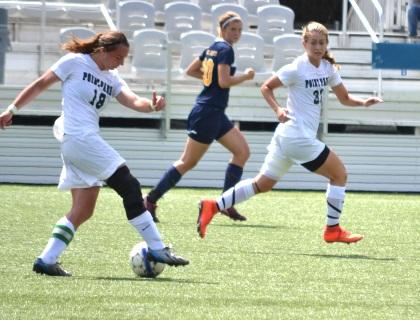 Megan Kuntz passes the ball to Erin Gilmartin in a home game Sept. 1, 2014 vs. Siena Heights.
PITTSBURGH -- The Point Park University women's soccer team picked up its first win of the 2014 season with Wednesday's 4-0 victory at non-conference La Roche College.
The Pioneers (1-3) stopped their three-game losing streak by racing out to a 3-0 lead by halftime. Point Park controlled things throughout with a 36-7 advantage in shots, which included 24-1 the first half.
The offense got going early with Erin Gilmartin's goal off a rebound in the 10th minute. Audra Lewis registered the assist. Lewis then scored a goal of her own for a 2-0 lead in the 30th minute. Beth Millican provided the assist on a cross from the left.
Before the half was through, Angela Robinet made it a 3-0 lead in the 37th minute after taking a pass from Louise Delaney.
La Roche goalkeeper Destiny Davis had a busy night with 20 saves and 36 shots faced, but she could not stop Robin Tkacz's goal in the 87th minute, which was assisted by Lauren Frey.
Mackenzie Pinto started in goal for Point Park and combined on the shutout with Erica Roney. Pinto played the first half, and Roney played the second half.
Wednesday's win ended a busy stretch for Point Park of three games in five days. The Pioneers are now off until Monday, Sept. 8 when they visit non-conference Mt. Vernon Nazarene.
Follow the Pioneers on Twitter @PointParkSports