Point Park women's soccer beats WV Tech, 3-0, on the road
Sept. 16, 2014 at 5:00 p.m. ET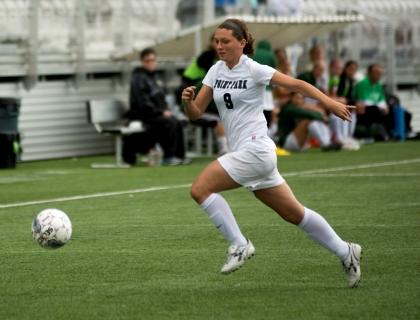 Alyson Joyce scored a goal in the 3-0 victory at WV Tech on Tuesday. Photo by Chris Squier.
MONTGOMERY, W.Va. -- Point Park University women's soccer earned a shut-out victory at West Virginia Tech, 3-0, on Tuesday afternoon.
The Pioneers (2-5, 0-0) took control early when freshman forward Audra Lewis dribbled down the center of the box and scored in the eighth minute.
Point Park held onto the 1-0 lead through halftime before junior Alyson Joyce scored in the 52nd minute to bump the lead to 2-0. Lewis' second goal of the game came in the 74th minute to put things out of reach.
Junior goalkeeper Erica Roney played all 90 minutes and earned the shutout with five saves. Both of Point Park's victories have come via shutout with the other being 4-0 at La Roche.
The Pioneers held a 13-7 advantage in shots and led in corner kicks, 8-3.
Point Park returns home for another non-conference game on Thursday versus NCAA Division II Walsh. Kickoff at Highmark Stadium is 4 p.m. WATCH LIVE on the Point Park Sports Network on Team1Sports.com
Follow the Pioneers on Twitter @PointParkSports