Point Park women's soccer drops non-conference game to NCAA DII Walsh
Sept. 18, 2014 at 8:00 p.m. ET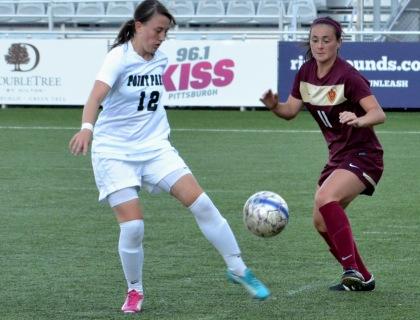 Point Park's Beth Millican (right) defended by Walsh's Lea Jalpert at Highmark Stadium on Thursday. Photo by Alex Gradwell.
PITTSBURGH -- Point Park University women's soccer gave up a very early goal versus Walsh in its non-conference game Thursday at Highmark Stadium but were still very much within striking distance down 1-0 at the half.
But Walsh (3-1-1) expanded on its 1-0, halftime lead with two goals in the second half en route to a 3-0 victory over the Pioneers (2-6).
Walsh, an NCAA Division II school and a former member of the American Mideast Conference along with Point Park, got a goal just 50 seconds after kickoff for the early lead. Emily Durina dribbled down the right flank and put a cross into the box, where Jessie Gearhart headed the ball into the back of the net.
Walsh made it 2-0 in the 56th minute when Gearhart won a goal kick near midfield, advanced it ahead to Durina, who played a long ball to Kristen Conti. Then Conti won the ball versus the Point Park defender, leaving no one between her and Pioneers keeper Mackenzie Pinto. Conti finished the play for the two-goal lead.
The Cavaliers went to the bench late and their fresh legs stretched the final margin out to 3-0 when subs Emma Angari and Mackenzie Gatchel connected for a goal. Angari played a ball down the center and Gatchel beat the defense just inside the 1 for the goal.
Walsh led in shots 15-9. Point Park had a handful of good chances but could not convert.
The Pioneers open up KIAC play at home Saturday versus conference newcomer Rio Grande (Ohio). Kickoff at Highmark Stadium is 2:30 p.m. Watch Live on the Point Park Sports Network on Team1Sports.com
Follow the Pioneers on Twitter @PointParkSports