Point Park women's soccer drops KIAC opener, 2-0, to Rio Grande
Sept. 20, 2014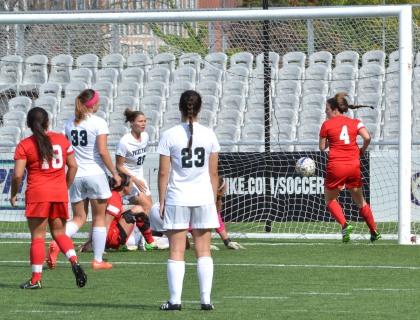 Rio Grande's Rachel Ahrens (4) gives the RedStorm a 2-0 lead in the 53rd minute on Saturday at Highmark Stadium.
PITTSBURGH -- The Point Park University women's soccer could not convert any of its chances into goals and visiting Rio Grande took an early lead then added on in the second half for a 2-0 victory on Saturday at Highmark Stadium.
Rio Grande (4-3, 2-0 KIAC) got on the board early when Kasey Crow scored in the fifth minute for a 1-0 lead. Point Park (2-7, 0-1 KIAC) had plenty of chances from then on but dropped its KIAC opener to new conference member Rio Grande.
The Pioneers led in shots 18-13 and had several good looks, particularly from in close in the second half, but could not put one in the back of the net. Point Park also took a good share of shots from outside the 18 with no luck.
Point Park got an apparent goal to go in the final 10 minutes, but a foul on the play took Audra Lewis' tally off the scoreboard. Rio Grande goalkeeper Allison Keeney made 15 saves for the shutout victory.
Trailing 1-0 at the half, Point Park went down 2-0 when a foul just outside the 18 led to a goal off a free kick. A bouncing ball inside the six was eventually banged home by Taylor Ahrens near the right post to stretch out the lead.
Point Park returns to action on Wednesday with a home game versus Geneva. Game time is 7 p.m. at Highmark Stadium.
Follow the Pioneers on Twitter @PointParkSports