Point Park women's soccer beats Geneva in non-conference home game, 1-0
Sept. 24, 2014 at 11:45 p.m. ET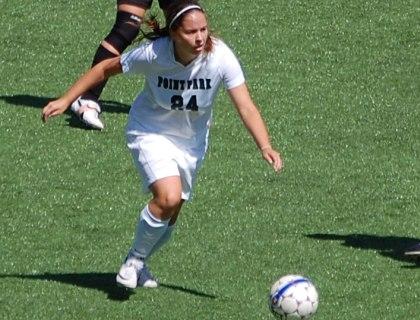 Ula Koczkodaj scored in the 40th minute in the 1-0 victory over Geneva.
PITTSBURGH -- The Point Park women's soccer team picked up a 1-0, non-conference victory over Geneva on Wednesday night at Highmark Stadium.
The Pioneers (3-7, 0-1 KIAC) played a complete game on offense and defense to stop a mini, two-game losing streak and made Ula Koczkodaj's first-half goal stand up in their first home victory of the year.
Point Park had been plagued by an 0-5 home record before the win over Geneva (1-7). But the Pioneers controlled the Golden Tornadoes throughout with a 29-8 advantage in shots and 10-2 advantage in corner kicks.
The Pioneers missed some good, early chances as the game remained scoreless, but Koczkodaj, a junior from Poland, broke the tie in the 40th minute. Louise Delaney dribbled the ball up field though traffic and dropped it off to Alyson Joyce down the left side. Joyce crossed the ball to Koczkodaj on the six, and she put it in for the game's only goal.
Earlier, Audra Lewis and Beth Millican each had had good looks from inside the box, but they both sent their shots wide with open portions of the net. And with the score still 0-0, Geneva nearly got on the board when the Point Park defense played a ball back to the keeper, Erica Roney, but the Pioneers dodged the bullet.
Geneva did not send many players into the attacking area during the course of the game but pushed up in the final minutes. Kimberly Orihel got behind the Point Park defense on the receiving end of a long ball in the last two minutes, but Point Park recovered to end the threat.
Roney played the first 45 minutes in net for Point Park, and Mackenzie Pinto played the second half as the pair combined for the shutout. All three of Point Park's victories have come by shutout.
The Pioneers are in action again Tuesday at non-conference Waynesburg. They return home for two, key KIAC games Oct. 2 versus Cincinnati Christian and Oct. 4 vs. Asbury, the latter of which is Senior Day.
Follow the Pioneers on Twitter @PointParkSports