Point Park women's soccer wins in double overtime at Waynesburg, 1-0
Sept. 30, 2014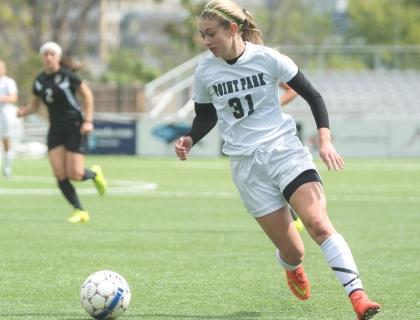 Erin Gilmartin scored in double overtime for the 1-0 win at Waynesburg. Photo by Chris Squier.
By Zachary Weiss, Point Park Athletic Communications Student Assistant

WAYNESBURG, Pa. -- The Point Park University women's soccer team won, 1-0, in double overtime at Waynesburg University Tuesday in a non-conference game.
"It was a well deserved and hard fought win for sure," Point Park head coach Maggie Kuhn said. "If we don't get scored on, we have an even chance of winning, and continuing our shutout streak was a goal for us tonight."
Point Park (4-7, 0-1 KIAC) and Waynesburg (4-4-2) each registered six shots, and the teams had two shots on goal a piece. Pioneers goalkeeper Erica Roney stopped two shots and Waynesburg goalkeeper Ciara Scott made one save.

Point Park opened the first and second half and each of the overtime periods as the aggressors. The defense ensured that Roney was not tested much, although Waynesburg did get five corner kicks.

In the second overtime, a cross came to Audra Lewis, and the rebound came to Erin Gilmartin, who scored her second goal of the season at the 100:32 mark of the game.

"We came out together as a team in the second overtime and tried to push the ball up the field," said Gilmartin. "Audra just deflected off a cross and I followed it up."

The Pioneers will next play Thursday versus Cincinnati Christian in a KIAC home game at 6 p.m.

Follow the Pioneers on Twitter @PointParkSports #PPUSOCCER #PPUWS