Point Park women's soccer beats Asbury (Ky.) on Senior Day, 2-1, in overtime
Oct. 4, 2014 at 2:00 p.m. ET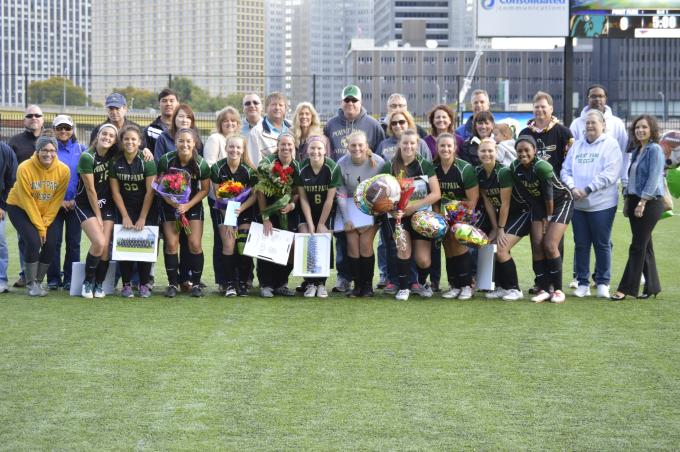 Point Park women's soccer Senior Day recognition for Senior Day Saturday at Highmark Stadium prior to the win over Asbury. Photo by Karen Mao.
PITTSBURGH -- Point Park University women's soccer earned a big victory on Senior Day with a 2-1, overtime win over Asbury (Ky.) University in a KIAC game on Saturday at Highmark Stadium.
The Pioneers (6-7, 2-1 KIAC) won their fourth game in a row when senior Megan Kuntz, from Newville, Pa., put in the game-winning goal with 12 seconds left in the first overtime. Kuntz beat Asbury goalkeeper Brooke Perkins after Erin Gilmartin's touch found Kuntz free on the 6-yard line and straight on in front of the goal.
Asbury (5-3, 1-1 KIAC) had its 1-0, halftime lead erased when Point Park senior Louise Delaney, from Headley Down, England, scored from 20 yards out. Defender Amanda Mikolay threw the ball in on the play and picked up the assist.
Point Park held a 9-4 advantage in shots the first half and had the better of the scoring chances but still found itself trailing, 1-0, at intermission. One of Asbury's two shots on goal the first 45 minutes was Meredith Ury's strike in the 23rd minute for a 1-0 lead. Ury placed a high shot in the back of the net from just inside the 18 for the score.
For the game, Point Park led in shots, 26-10. Despite the Pioneers getting most of the opportunities all game long, Asbury nearly came away with the win when Laura Mills broke free through the center of the Pioneers' defense in the 84th minute. But Mills' breakaway shot from inside the box went off the cross bar.
Perkins, the Asbury keeper, was the star for the Eagles. She made 13 saves and turned away many strong attempts on the part of the Pioneers.
As overtime began, Point Park continued its control on possession and the attack. Senior defender Angie Abel nearly ended things a little earlier, but her shot from 35 yards away hit the cross bar. But within one minute, Kuntz put in the game-winner as the Pioneers kept the pressure on.
Point Park split the goalkeeping duties between starter Erica Roney, who played 45 minutes, and Mackenzie Pinto, who played the final 55 minutes.
Point Park edged into second place in the KIAC at 2-1, and Asbury (Ky.) dropped to 1-1 KIAC. Conference leader Rio Grande is 3-0 KIAC.
The Pioneers are off until visiting Midway (Ky.) for a KIAC game on Oct. 12. Follow the Pioneers on Twitter @PointParkSports #PPUSOCCER #PPUWS