Point Park gets record fifth-straight win with 4-0 shutout at Midway (Ky.)
Oct.12, 2014 at 10:00 p.m. ET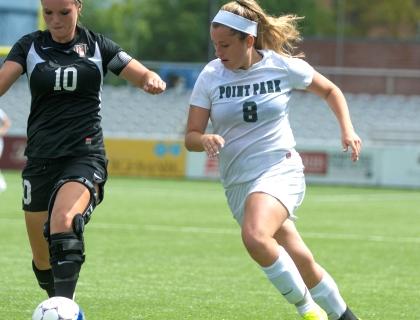 Audra Lewis scored her team-leading eighth goal of the season at Midway (Ky.). Photo by Chris Squier.
MIDWAY, Ky. -- The Point Park University women's soccer team registered a team record for most consecutive wins with Sunday's 4-0, KIAC shutout at Midway (Ky.) College.
The Pioneers (7-7, 3-1 KIAC) won for the fifth time in a row to get their record to .500 overall for the first time this year and remain in control of second place in the KIAC, a half game behind Rio Grande (3-0 KIAC). Midway fell to 3-4 overall, 0-2 KIAC.
Point Park, which has not lost since Sept. 20, beat the previous win streak of four straight victories to open the 2012 season. The five consecutive wins have included four shutouts and just one goal allowed in 470 minutes (7 hours, 50 minutes) of soccer.
It was another 90 minutes of shut-out soccer played by the Pioneers' defense on Sunday. Point Park was in control of play with a 29-12 advantage in shots.
After much of the first half remained scoreless at 0-0, freshman Audra Lewis scored in the 27th minute for the game's first goal. Lewis' team-leading eighth goal of the season was assisted by Beth Millican.
The Pioneers built a 2-0, halftime lead when Ula Koczkodaj scored in the 39th minute off an assist from Alyson Joyce. Both Koczkodaj and Joyce had a goal and an assist on the day. The duo returned the favor to one another in the 66th minute when Koczkodaj assisted on a goal by Joyce for a 3-0 lead.
Leeza Tokarski added the fourth goal in the 85th minute, and Noel Hartle picked up the assist.
Starter Mackenzie Pinto and sub Erica Roney split the goalkeeping duties for the Pioneers with each registering three saves.
Point Park returns to action Monday for the another road game at Georgetown (Ky.) (5-7, 2-2 Mid-South Conf.) at 2 p.m. Live Video will be provided courtesy of GC athletics. WATCH LIVE
Follow the Pioneers on Twitter @PointParkSports #PPUSOCCER #PPUWS