Point Park women's soccer beats Carlow, 4-0, ties team record for wins
Oct. 24, 2014 at 5:15 a.m. ET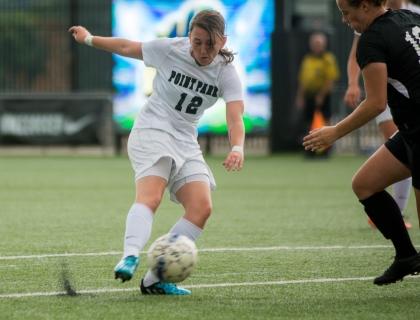 Beth Millican scored the first two goals in the 4-0 victory at Carlow. Photo by Chris Squier.
PITTSBURGH -- In a rivalry matchup that has historically ended with one of the teams winning, 1-0, Point Park University women's soccer surged to a 4-0 victory at Carlow University in a KIAC game Thursday night at Highmark Stadium.
Point Park (10-8, 5-1 KIAC) held a 1-0 lead at halftime then added on the final 45 minutes to turn the final result into a wide margin versus its crosstown rival Carlow (7-5, 2-3 KIAC).
The victory ties a Point Park team record for wins in a season with 10, matching the 2012 team. It also clinched second place in the KIAC standings and KIAC Tournament in what was the final regular-season game for the Pioneers.
First-place Rio Grande (9-3, 5-0 KIAC) beat Cincinnati Christian, 1-0, on Thursday night to stay unbeaten in the KIAC. That, combined with a 2-0, head-to-head win at Point Park clinches first place and the playoff No. 1 seed for Rio Grande. But third-place Asbury (7-5, 3-2 KIAC) can no longer catch Point Park.
In the past six years, Point Park and Carlow have played nine times. In those games, the teams were separated by a combined seven goals with three ties and four games that ended with a final score of 1-0. There was even a 0-0, semifinal playoff game last year in which Point Park advanced on penalty kicks.
But it was a different story on Thursday night. Although Point Park was still holding on to its 1-0 lead at halftime, a fairly early tone was set by the Pioneers with Beth Millican's goal in the 16th minute. It was the first of two goals on the night for the sophomore forward from England. She also scored in the 57th minute to take control, 2-0.
Three minutes after Millican's second tally, Louise Delaney pushed Point Park's lead to 3-0. The Pioneers bumped the final margin to 4-0 with Erin Gilmartin's goal in the 87th minute.
Point Park is now 8-1 in its last nine games, which includes a 5-0 KIAC mark in that span. Thursday's shutout win was the sixth time the Pioneers have earned a shutout in the last nine games.
The Pioneers are off until Nov. 14-15 when the KIAC Tournament semifinals and finals will be hosted by pre-determined host school Asbury (Ky.). Point Park has a bye in the first round Nov. 8. The KIAC Tournament is a six-team, single-elimination tournament with the No. 1 and 2 seeds receiving a bye.
Follow the Pioneers on Twitter @PointParkSports #PPUSOCCER #PPUWS
Check back for game statistics as they become available.