Point Park women's soccer 2014 schedule has 7 home games, 10 away
July 17, 2014 at 12:00 p.m. ET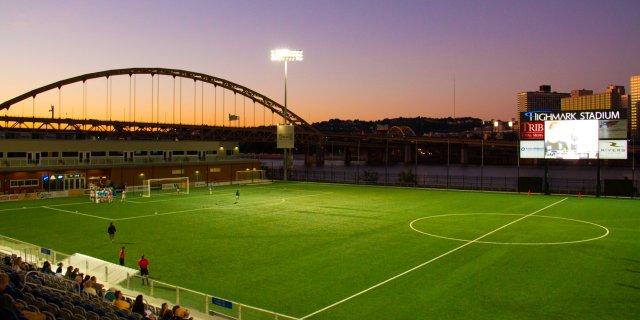 Highmark Stadium is the home venue of Point Park soccer for the second year. It's pictured here on Sept. 5, 2013 when the Pioneers women's soccer team played West Liberty for the first Point Park game there ever.
2014 POINT PARK WOMEN'S SOCCER SCHEDULE
PITTSBURGH -- The Point Park University women's soccer 2014 schedule will get an early start and a heavy dose of NAIA opponents, both in and out of conference.
The Pioneers have 17 games in all with seven at home and 10 on the road. Point Park's home games are a Highmark Stadium for the second year, and the home and season opener is Saturday, Aug. 23 versus Spring Arbor (Mich.) at 1 p.m. Spring Arbor was 18-3-1 overall in 2013 and ended the year ranked No. 7 in the NAIA Top 25 Poll as a national tournament participant.
Point Park will play six Kentucky Intercollegiate Athletic Conference games with one meeting versus each of the schools in the conference. Three KIAC games are at home and three are on the road. Four of the six KIAC games will be played at Highmark Stadium since road opponent Carlow also plays its home games there.
KIAC home opponents are conference newcomer Rio Grande (Ohio), Cincinnati Christian and KIAC Tournament champion Asbury (Ky.). Conference road games will be at Carlow, at Midway (Ky.) and at Brescia (Ky.).
Cincinnati Christian, Asbury and Carlow have joined Point Park in the upper half of the KIAC standings the last two years. Rio Grande was 10-8 and beat Point Park, 1-0, last year in a non-conference game. The Pioneers will see all four of these teams, who again figured to be in the top half of the league, on familiar turf at Highmark Stadium.
The 11 non-conference games include matchups with seven NAIA teams, three NCAA Division III teams and one NCAA Division II team (Malone). Seven of the non-conference games are on the road giving the Pioneers a tough out-of-conference test.
The Pioneers will test themselves against three other NAIA conferences and one NAIA independent team. From the Crossroads League, Point Park will see conference champion No. 7 Spring Arbor (Mich.) (18-3-1 in 2013) and Mt. Vernon Nazarene (0-21). MVNU's 2013 game results have been taken as forfeits.
From the Mid-South Conference, the Pioneers play at St. Catharine (Ky.) (13-7) and at Georgetown (Ky.) (10-7), two teams that were at the top half of their league standings. Similarly, home opponents Siena Heights (Mich.) (8-8-3) and Concordia (Mich.) (9-9-1) were both in the top half of the Wolverine Hoosier-Athletic Conference last year.
The non-conference schedule is rounded out by playing NCAA Division III teams Geneva and La Roche on the road and Waynesburg at home. The Pioneers face NCAA Division II Malone at home Aug. 30.
The Pioneers will begin training for the 2014 season on Aug. 11. There will be an exhibition game Aug. 19 versus St. Vincent at Highmark Stadium (1 p.m.). There will also be an exhibition at Washington & Jefferson on Aug. 26 (7 p.m.), which is after the regular season opener Aug. 21 versus Spring Arbor (Mich.) at home.
Point Park and third-year head coach Maggie Kuhn have 8 of 11 starters returning from last year's team that was 7-12-2 overall, 4-1-1 KIAC and reached the KIAC Tournament finals for the second year in a row. The Pioneers lost to Asbury (Ky.), 2-1, to come up one game short of the NAIA national tournament in back to back years.
For the complete Point Park University women's soccer 2014 schedule, click the link above.
Follow the Pioneers on Twitter & Instagram @PointParkSports and Facebook.com/PointParkAthletics