Point Park women's soccer drops 2OT heartbreaker at home to Concordia (MI)

Sept. 13, 214 at 11:30 p.m. ET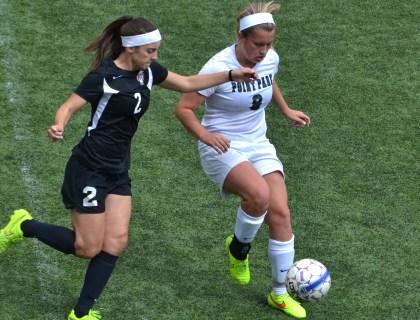 Audra Lewis battles Concordia's Sidney Rouse on Saturday at Highmark Stadium.
PITTSBURGH -- Point Park University women's soccer lost a heartbreaker at home to Concordia (Mich.), 2-1, in double overtime Saturday at Highmark Stadium.
The Pioneers (1-5, 0-0 KIAC) were in need of a win and played strong throughout versus one-loss Concordia (4-1-1) but instead were saddled with another tough loss versus a strong NAIA, non-conference opponent.
Point Park struck first on Louise Delaney's goal in the 22nd minute, which came off a rebound after Audra Lewis put a shot on goal from eight yards out.
The lead was short-lived, however, as Concordia tied it up just three minutes later when Martha Mullet and Julia Palushaj worked a give and go for a goal by Mullett in the 25th minute.
The teams were deadlocked for the rest of regulation although more chances were created on the Point Park side with the Pioneers holding a 20-14 edge in shots for the game.
Point Park goalkeeper Erica Roney, who has played in all six games but played the full 90 minutes for the first time, was strong in net with nine saves. She made two stops in the second half in one-on-one situations from in close -- in 62nd minute on Palushaj and in the 78th minute on Heather Emke -- that kept the score at 1-1.
Concordia appeared to get the game-winning goal in the 87th minute when Emke got behind the defense and knocked it in, but she was called for offsides.
The first overtime solved nothing, but the visiting Cardinals got the game-winner from Palushaj in the 104th minute. Assisting on the play was Lora Palushaj, who's pass from around the 18 beat the defense and left a good look for the decisive goal.
After Saturday's loss to Concordia (4-1-1), Point Park's one win in six games has come versus teams that are a combined 15-4-1 overall. Other non-conference losses have come versus No. 14 Spring Arbor (4-1-1), Siena Heights (4-0), Mt. Vernon Nazarene (6-1) and NCAA DII Malone (1-2).
Point Park is in action again on Tuesday at West Virginia Tech. The Pioneers return home Thursday versus Walsh at 4:30 p.m. and host Rio Grande on Sept. 20 at 2:30 p.m.
Follow the Pioneers on Twitter @PointParkSports