Point Park wins third in a row with KIAC victory over Cincinnati Christian
Oct. 2, 2014 at 9:00 p.m. ET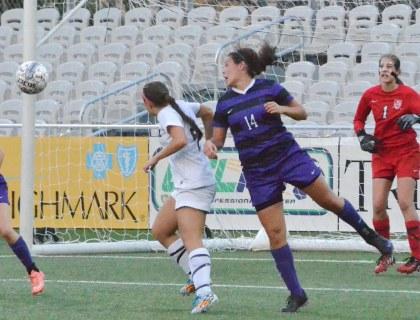 Point Park's Anna Wyss goes on the attack versus Cincinnati Christian on Thursday.
PITTSBURGH -- Point Park University women's soccer won its third game in a row with Thursday night's 5-0 victory over Cincinnati Christian in a KIAC game at Highmark Stadium.
The Pioneers (5-7, 1-1 KIAC) won by shutout for third time in a row. And there was plenty of offense for Point Park, which tacked on to its 2-0, halftime lead with three more goals the second half.
The Pioneers controlled possession throughout with a 31-1 advantage in shots. The game was scoreless for the first 23:53 before Megan Kuntz knocked in a header off a rebound for a 1-0 lead for the Pioneers.
With eight minutes left in the first half, Simone Keibler put in a rebound after Anna Wyss had taken a shot on goal as Point Park bumped the lead to 2-0.
After a 16-1 shot advantage the first 45 minutes, the Pioneers kept the offensive attack in full swing after halftime. Audra Lewis put the game away with goals in the 53rd and 63rd minutes to stretch the lead to 4-0. Lewis now leads the Pioneers with seven goals on the year.
In the 82nd minute, Ula Koczkodaj set the final margin at 5-0 off an assist from Erin Gilmartin. Other assists for Point Park were Angela Robinet on Kuntz's goal, Anna Wyss on Keibler's goal and Jasmine Meichele on Lewis' first goal.
Point Park goalkeepers Erica Roney and Mackenzie Pinto split the duties in net with 45 minutes of action apiece.
With their third shutout in a row, the Pioneers have now gone 306 consecutive minutes without giving up a goal. That stretch dates back to the 54th minute of the 2-0 loss to Rio Grande.
Point Park's next game is Saturday at home versus Asbury at 10 a.m. for Senior Day. In a rematch of the KIAC Tournament finals from last year, Point Park will play its final home game and its third game in five days.
Follow the Pioneers on Twitter @PointParkSports #PPUSOCCER #PPUWS