Point Park falls to Asbury (Ky.) in KIAC Tournament Semifinals, 3-2

Nov. 14, 2014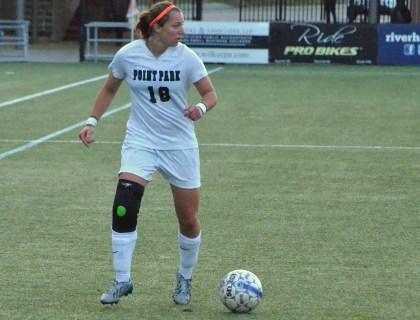 Megan Kuntz had a goal and an assist in the KIAC Tournament semifinals at Asbury.
WILMORE, Ky. -- Asbury (Ky.) University scored three unanswered goals on its way to a 3-2 victory over visiting Point Park University in the semifinals of the KIAC Women's Soccer Tournament on Friday.
Point Park (10-9, 5-1 KIAC), the tournament No. 2 seed, had to go on the road to play No. 3 seed Asbury (Ky.) (11-7, 4-2 KIAC), the pre-determined host of the semifinals and finals.
The Pioneers struck first with senior midfielder Megan Kuntz's goal in the 20th minute, but that could not hold off Asbury's attack.
The Eagles pulled even by halftime when Meredith Ury scored in the 35th minute. Asbury took control for a 3-1 lead when Mia Wiersema and Toria Howard scored in the 63rd and 68th minutes.
Although Point Park's Audra Lewis scored off an assist from Kuntz to bring the Pioneers within 3-2, there were only 26 seconds remaining.
Point Park's season came to an end the same place it did last year, with a postseason loss at Asbury, although this time, it came one round earlier. The Pioneers made it to the KIAC Tournament finals each of the last two seasons only to come up short each time.
The Pioneers tied a team record this year with 10 wins, which match the 2012 team for most wins in a single season. Point Park's 11 seniors had their careers end with four straight playoff appearances for the program.
Asbury advances to the tournament finals versus No. 1 seed Rio Grande, a 2-0 winner over No. 4 Carlow, on Saturday at 5:00 p.m. Asbury will host that game as well.
The Eagles put together a strong attack in the second half with a 9-2 shot advantage the final 45 minutes. Asbury held a 16-8 edge in shots for the game.
Point Park goalkeeper Erica Roney played all 90 minutes and made seven saves.