Point Park chosen 3rd in KIAC Women's Soccer Preseason Coaches' Poll
August 20, 2015 2:20 p.m. ET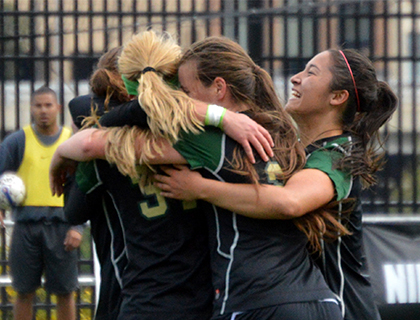 FLORENCE, Ky. – Point Park (Pa.) University was picked third out of nine teams in the 2015 KIAC Women's Soccer Preseason Coaches' Poll by the KIAC office Aug. 14. The Pioneers (10-9, 5-1 KIAC in 2014) earned 53 points and received two first-place votes coming off a KIAC semifinals performance.
The University of Rio Grande is predicted as the conference's top team. Rio Grande earned seven of the nine first-place votes and totaled 63 points in the poll. Rio Grande won the KIAC Tournament and advanced to the NAIA National Championship Opening Round.
Asbury (Ky.) University was picked second in the preseason poll with 54 points. The Eagles were 11-8 overall, 4-2 KIAC last year and lost to Rio Grande in the KIAC Tournament finals, 2-0.
Carlow (9-6 in 2014) and KIAC newcomer West Virginia Tech (4-9-4) are tied for fourth in the preseason poll with 35 points each. Cincinnati Christian (4-13-1) came in sixth with 27 points followed by the other KIAC newcomer, Ohio Christian (12-9-1), in seventh with 25 points.
Midway (Ky.) (7-8) came in at eighth place with 19 points, and Brescia (1-15) was ninth with 13 points.
The 2015 KIAC women's soccer season begins Aug. 21. Every KIAC team plays each other once during the regular season, and the top six teams in the standings qualify for the KIAC Tournament Nov. 7-14. The higher seed in each playoff matchup will serve as the host team for each game all the way through to the finals.
The Pioneers square off against three nationally ranked opponents this season with No. 8 Spring Arbor (Mich.), No. 18 Siena Heights (Mich.) and No. 25 Mount Vernon Nazarene University.
The KIAC Tournament champion will receive the conference's automatic bid to the NAIA Women's Soccer National Championship beginning Nov. 21 with the Opening Round and continuing with the final site Nov. 30-Dec. 5 at Orange Beach, Ala.
Follow KIAC women's soccer on KIACsports.com and on Twitter @KIACSports.
2015 KIAC WOMEN'S SOCCER PRESEASON COACHES POLL (Aug. 14)
(First-Place Votes in Parenthesis)
| | |
| --- | --- |
| School | Points |
| 1. Rio Grande (7) | 63 |
| 2. Asbury (Ky.) | 54 |
| 3. Point Park (Pa.) (2) | 53 |
| T4. Carlow (Pa.) | 35 |
| T4. West Virginia Tech | 35 |
| 6. Cincinnati Christian | 25 |
| 7. Ohio Christian | 25 |
| 8. Midway (Ky.) | 19 |
| 9. Brescia (Ky.) | 13 |