Point Park women's soccer falls to NAIA No. 25-ranked Mt. Vernon Nazarene

Sept. 12, 2015 at 8:45 p.m. ET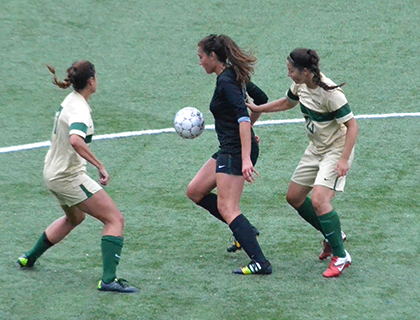 Point Park's Jasmine Meichle (right) and Leeza Tokarski (left) defend Mt. Vernon's Rachel Baker.
STATS/ PIONEER GAMECAST (Video Report)
PITTSBURGH -- Point Park University women's soccer battled for over 60 scoreless minutes against NAIA No. 25-ranked Mt. Vernon Nazarene University Saturday at Highmark Stadium before Mt. Vernon broke the 0-0 tie in the second half, scoring two goals within the span of 10 minutes.
The score was tied 0-0 at the half, with Mt. Vernon (4-2) holding the advantage in shots, 7-5.
The Cougars' defense pushed Point Park back for much of the game, allowing the Pioneers (2-1-1) only seven shots on goal compared to Mt. Vernon's 13. Shots were 19-10 in favor of Mt. Vernon.
The Cougars also held the advantage in corner kicks, 7-2.
Mt. Vernon senior Rachel Baker scored an unassisted goal in the 63rd minute of play, and sophomore Regina Rudder scored the game-winning goal in the 72nd minute of play on an assist by senior Lydia Simpson.
Point Park senior goalkeeper Erica Roney (2-1-1) stopped 11 of the 13 shots she faced.
The Pioneers return to action Tuesday with a 5 p.m. KIAC matchup against Ohio Christian University in Circleville, Ohio.
Follow the Pioneers on Twitter @PointParkSports and Facebook.com/PointParkAthletics.