Point Park women's soccer wins KIAC Game of the Week, 3-1, at Ohio Christian
Sept. 15, 2015 at 9:50 p.m. ET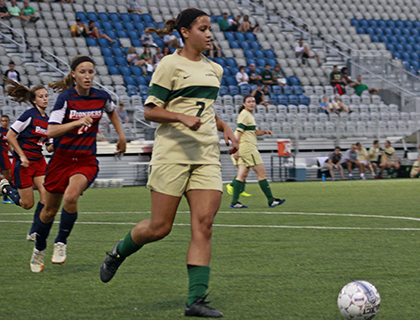 Point Park senior Leeza Tokarski scored two goals and had an assist in the 3-1 win. Photo by Liz Berie.
CIRCLEVILLE, Ohio -- Point Park University senior Leeza Tokarski scored two goals within five minutes to lift the Pioneers past Ohio Christian University, 3-1, in the KIAC Game of the Week Tuesday.
Point Park (3-1-1, 1-0 KIAC) out-shot Ohio Christian (4-2, 1-1 KIAC) 16-4 in the first half, but the score remained 0-0 heading into halftime.
The Pioneers scored first on a goal by junior Erin Gilmartin in the 58th minute, with an assist by Tokarski to make the score 1-0.
Ohio Christian senior Katelyn Danner scored on an assist from junior Lexi Paas to tie the game 1-1 in the 70th minute of play.
Point Park out-shot the Trailblazers 15-7 in the second half, and Gilmartin returned the favor to Tokarski, setting her up for a goal in the 82nd minute of the game, making the score 2-1 in favor of the Pioneers.
Less than four minutes later, Tokarski scored a top-shelf, unassisted goal to clinch the 3-1 victory for the Pioneers.
Point Park senior goalkeeper Erica Roney (3-1-1) allowed only one goal and had five saves for the win.
The Pioneers head to Michigan for a 1 p.m. game Saturday against NAIA No. 18 Siena Heights and a 4 p.m. game Monday at NAIA No. 8 Spring Arbor. Both teams will have a live broadcast of the games.
Follow the Pioneers on Twitter @PointParkSports and Facebook.com/PointParkAthletics.