Point Park women's soccer wins season opener against Malone
Sept. 3, 2015 12:07 a.m. ET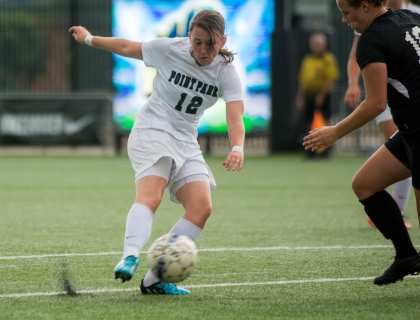 Senior Beth Millican scored the game-winning goal in the 2-1 win against Malone.
PITTSBURGH – Point Park University women's soccer won its season opener Thursday evening against Malone University, 2-1, at Highmark Stadium behind senior Beth Millican's game-winning goal in the final minute of play.
The teams were evenly matched throughout the game, and the score was 0-0 at the half.
Point Park senior goalkeeper Erica Roney stopped seven shots throughout the match, but Malone (0-1) struck first with an unassisted goal by junior Christine Najjar in the 60th minute.
Backed by a strong home crowd, Point Park (1-0) answered less than 10 minutes later when Erin Gilmartin scored off an assist from Noel Hartle in the 64th minute.
With the game tied 1-1 and less than a minute left, Gilmartin sent a cross from the right side, and Millican tapped it in from six yards for the game-winning goal.
Malone and Point Park were evenly matched with shots at 14 and 12 respectively.
Point Park hosts NAIA member St. Catharine (Ky.) Saturday for a 1 p.m. match.
Follow the Pioneers on Twitter @PointParkSports and Facebook.com/PointParkAthletics.