Point Park women's soccer draws at Walsh, 2-2, in 2OT

Sept. 9, 2015 at 11:30 p.m. ET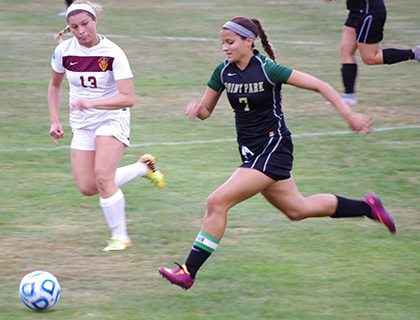 Photo courtesy of Walsh University Sports Information
NORTH CANTON, Ohio – Point Park University women's soccer went into double overtime but ended the game in a 2-2 tie Wednesday at Walsh University.
With five minutes left in regulation, Point Park freshman Abby Magliocca scored on an assist by Jasmine Meichle to tie the game, 2-2.
Despite 20 additional minutes of play, neither team could break the stalemate.
Walsh (1-1-1) had every opportunity to score, outshooting Point Park 28-8 in 110 minutes of play. Point Park senior goalkeeper Erica Roney recorded 10 saves.
Point Park (2-0-1) was not awarded any corner kicks, while Walsh had eight.
The Pioneers scored first on an unassisted goal by junior Erin Gilmartin in the 10th minute of play to make the score, 1-0.
With Point Park leading 1-0 heading into the second half, the Cavaliers tied the game with a goal by Jessie Gearhart in the 63rd minute. Gearhart scored an unassisted goal 20 minutes later to give Walsh the 2-1 lead before the final goal by Magliocca to tie the game, 2-2.
The Pioneers host NAIA No. 25-ranked Mount Vernon Nazarene University Saturday at 1 p.m. at Highmark Stadium.
Follow the Pioneers on Twitter @PointParkSports and Facebook.com/PointParkAthletics.