Joyce scores lone goal, Roney records shutout in Point Park's 1-0 win

Sept. 5, 2015 9:50 p.m. ET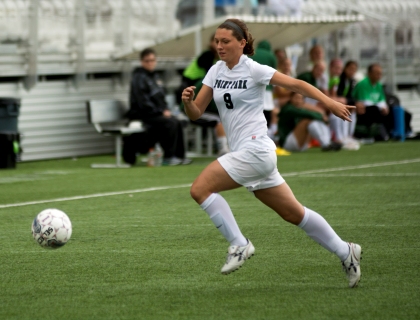 Senior Alyson Joyce scored Point Park's lone goal. Photo by Chris Squire.
STATS

PITTSBURGH – Point Park University women's soccer edged past St. Catharine (Ky.) College Saturday, 1-0, behind senior Erica Roney's shutout performance and a goal off the foot of Alyson Joyce.
It was a defensive battle between the Pioneers (2-0, 0-0) and the Patriots (0-3), with the score 0-0 at the half.
Less than three minutes into the second half, a redirected header from Point Park sophomore Noel Hartle sent the ball down the field to Joyce. Joyce, a senior from Medina, Ohio, got past the St. Catharine defender and scored from the right side, 19 yards out in the 48th minute of play.
The Pioneers' goalkeeper Erica Roney stopped all of the seven shots she faced in 90 minutes. St. Catharine sophomore goalkeeper Emily Belt stopped 10 shots on goal from the Pioneers.
Point Park held the advantage in shots throughout the game, 8-5 in the first half and 9-5 in the second. St. Catharine had more opportunities to score on corner kicks with a 5-2 advantage, but could not produce a goal.
The Pioneers travel to NCAA DII Walsh University Sept. 9 for a nonconference matchup beginning at 7 p.m.
Follow the Pioneers on Twitter @PointParkSports and Facebook.com/PointParkAthletics.