Holl, Olivieri score hat tricks in rout of Mountain State
Oct. 12, 2009
CHESWICK, Pa. -- Ryan Holl and Angela Olivieri each recorded a hat trick as Point Park routed Mountain State, 7-0, Monday in a non-conference women's soccer game.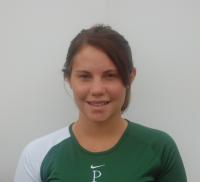 Holl, a freshman from Pittsburgh, scored three goals in the first half, and Point Park led, 3-0, at halftime. Holl (pictured left) scored her first career goal in the fifth minute. She made her second tally with 12 minutes gone, and made it 3-0 one minute later.
Olivieri, who got the assist on Holl's second and third goals, scored all three of her goals in the second half. The senior from Edinboro, Pa., leads Point Park with five goals on the year.
Point Park (2-8) snapped a seven-game losing streak and set a season high for goals in a game. The Pioneers' previous high for goals this season came in a 2-1 victory over Waynesburg Sept. 8.
Erica Mikolay (North Versailles/East Allegheny) scored her third goal of the season to make it 4-0 early in the second half.
Olivieri's goals came in the 71st, 82nd and 89th minutes, respectively.
Karly Shorts (Hollsopple/North Star), Rachel Eagan (Pittsburgh/Langley) and Lauren Evans (Munhall/Steel Valley) had one assist apiece.
Point Park goalkeeper Liz Velez (Erie/General McLane) made one save and picked up her first-career shutout. The sophomore Velez played all 90 minutes.
Point Park held a 28-4 advantage in shots, and Mountain State goalie Erica Alderman made nine saves.
The Pioneers resume American Mideast Conference play Thursday at Ursuline. Game time is 4 p.m. Point Park returns home, where it has a 2-3 record, for an AMC game versus Cedarville Saturday (4 p.m.)