Pioneers lose season opener, 2-1, in overtime
Sept. 4, 2009
PITTSBURGH - Lake Erie scored the final two goals of the game, including the overtime game-winner by Chelsea Giesen, in a 2-1 victory over Point Park University in a non-conference women's soccer match Friday at LaRoche.
Giesen was the Storm's goalkeeper for the first half, but she played forward during the second half and overtime. Giesen scored the deciding goal with 1:33 left in the first overtime after heading a free kick from Valerie Urbanik.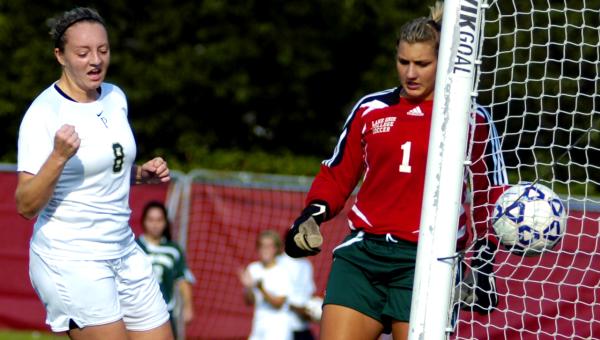 Point Park (0-1) had taken a 1-0 lead on a goal by Erica Mikolay (North Versailles/East Allegheny) at the 22:11 mark of the first half. Freshman forward Ashley Goodsell (Southamtpon, N.J./Seneca) crossed the ball to the right post, and Mikolay headed the ball to the back of the net.
Pictured above, Mikolay sneaks the game's first goal by Giesen. (Photo by Jack Megaw, Point Park athletics).
The Pioneers maintained their one-goal lead until Urbanik buried a 25-yard shot with 24 minutes remaining. There was no assist on the play.
Point Park sophomore goalkeeper Liz Velez (Erie/General McLane) made a career-high 13 saves in the first start of her career.
Giesen and Jaimie Nelson combined to make eight saves for Lake Erie (1-1).
The Storm held a 17-12 advantage in shots, and Point Park was plagued by eight offside violations.
Point Park returns to action Tuesday in its home opener versus Waynesburg. The non-conference matchup starts at 6 p.m. at Founders Field.