Pioneers defeat Waynesburg for first victory of the season
Sept. 8, 2009
CHESWICK, Pa. - The Point Park University women's soccer team picked up its first win of the season in a 2-1, non-conference victory over Waynesburg Tuesday at Founders Field.
Point Park (1-1) led 2-0 at halftime in winning its home opener. The Pioneers started the season with a 2-1, overtime loss to Lake Erie Friday.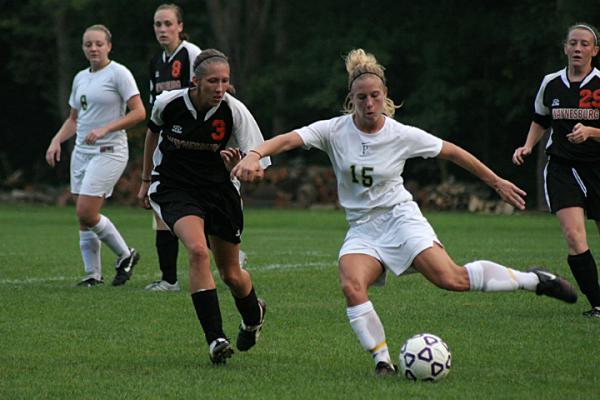 Photo by Murphy Moschetta, Point Park athletics
Waynesburg (2-1) suffered its first loss of the season, and had not given up a goal prior to Tuesday's game. But Jo Jo Altebrando (Montoursville/Montoursville) got Point Park on the board early when her free kick found the back of the net in the 16th minute. There was no assist on the play.
The Pioneers extended the lead to 2-0 when Erica Mikolay (North Versailles/East Allegheny) scored her second goal in as many games with 15 minutes left in the half. The eventual game-winning goal was set up by Mallory Olson (Munhall/Steel Valley) who connected with Mikolay on a corner kick.
Waynesburg cut the lead to 2-1 when Courtney Ebersole scored an unassisted goal with 24 minutes left. Ebersole has four goals on the year.
The Yellow Jackets had a few nice scoring opportunities down the stretch, but they could not convert for the tying goal. With 15 minutes left, Karen Foyer hit the left post on the end of a two-on-one break. With under 20 seconds to play Melody Cox put a ball through the goalie box, but it rolled wide and left.
Point Park goalkeeper Liz Velez (Erie/General McLane) made three saves in picking up her first career win.
Each team had eight shots on the night. Waynesburg was whistled for 10 fouls, and eight of those came in the first half. Point Park's first goal was set up by a foul.
The Pioneers open American Mideast Conference play Thursday at Mt. Vernon Nazarene (5 p.m.) and continue AMC play Saturday at home versus Daemen (2 p.m.).
Pictured above: Ashley Goodsell and the Pioneers are 1-1 on the year.