Second-half goal gives Malone 1-0 win over Point Park in season finale
Oct. 31, 2009
CHESWICK, Pa. -- On a very muddy track at Founders Field, Malone broke a scoreless tie in the 67th minute to edge Point Park, 1-0, Saturday in an American Mideast Conference women's soccer game.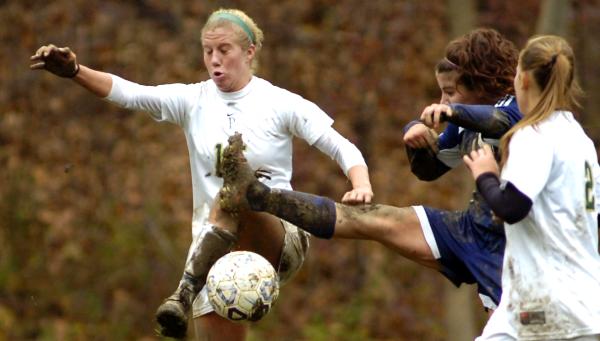 In the season finale for both teams, it was Malone's Jennifer McFadden who got the game's only goal after taking a pass from Katie Heckman.
Both teams battled through sloppy conditions that put scoring opportunities at a premium. Malone (9-7 overall, 5-6 AMC) held a 38-2 advantage in shots although a lot of the Pioneers' shots were from about 25 yards out.
Point Park goalkeeper Maeve Gallagher (Pittsburgh/Perry) set a career high with 24 saves in her fourth start in goal. The sophomore Gallagher doubled her previous career high of 12 saves she set Tuesday in a 1-0 loss to Houghton.
Point Park finished its season with a 2-13-1 overall record and an 0-10-1 mark in AMC play. Saturday the Pioneers played their fifth straight game without their top goalkeeper, Liz Velez (Erie/General/McLane) and their third game without leading scoring Angela Olivieri (Edinboro/General McLane).
For the season, Point Park gave up two goals per game, and had a record of 1-7 in games decided by one goal. The Pioneers lost five games by a score of 2-1 and lost their last two games, 1-0.
Pictured above, Point Park midfielder Ashley Goodsell battles for a muddy ball Saturday while teammate Mallory Olson looks on. Photo by Jack Megaw.