Second-half surge carries Walsh to victory over Point Park
Oct. 20, 2009
CHESWICK, Pa. -- Walsh scored three goals in a span of four minutes in the second half on its way to a 6-0 victory over Point Park in an American Mideast Conference women's soccer game Tuesday at Founders Field.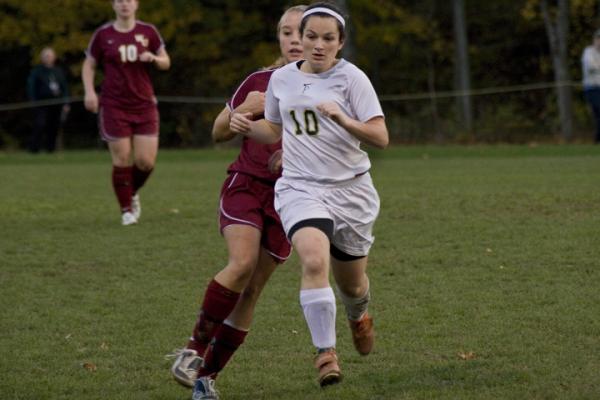 Walsh, which led 2-0 at halftime, led 5-0 after a goal by Carley Adams in the 64th minute.  Molly Martin started the second half scoring with a goal in the 60th minute, and Amanda Patrick scored in the 62nd minute.
Point Park (2-10-1 overall, 0-7-1 AMC) played its second straight game without its starting goalkeeper, Liz Velez (Erie/General McLane), who was injured last week at Ursuline.
Defender Maeve Gallagher (Pittsburgh/Perry) filled in as goalkeeper Saturday in a 2-1 loss to Cedarville, but a broken hand kept her from playing in goal Tuesday. Alexa Tokarski (Pittsburgh/Schenley), a midfielder, played goalkeeper for the Pioneers and made six saves in 90 minutes of work.
Walsh (4-7-3, 4-5) had taken a 1-0 lead on a goal by Adams in the sixth minute. Abbie Sullivan's tally made it 2-0 four minutes later. Walsh held a 20-3 advantage in shots.
Point Park visits Notre Dame (Ohio) for an AMC game Saturday at 12 p.m.
Pictured above, Pioneers' forward Angela Olivieri works agains the tough Walsh defense during Tuesday's game at Founders Field. Photo by Murphy Moschetta.